VA's CIO Provides Mobile Device Update
Major Rollout of iPads, iPhones Delayed Until Late Summer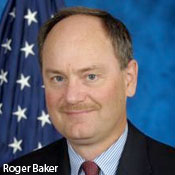 The Department of Veterans Affairs will not expand its use of iPads and iPhones until later this summer, when an enterprisewide mobile device management system to monitor the devices and ensure security is implemented, says CIO Roger Baker.
See Also: LIVE Webinar | Stop, Drop (a Table) & Roll: An SQL Highlight Discussion
Baker announced last fall that the VA would accommodate the use of as many as 100,000 iPads and iPhones, primarily for clinical purposes, within 18 months, as many desktop computers are phased out. And to control costs, many of those mobile devices will be personally-owned by VA clinical staff members.
In January, Baker said implementation would not exceed 1,000 Apple devices - and would not include personally-owned devices - until a more robust, enterprisewide mobile device management system, using the cloud computing model, is implemented (see: VA's Use of Mobile Devices: An Update). During an April 25 news media conference call, Baker said the mobile device management system has not yet been selected and likely won't be implemented until later in the summer. In January, he had said the system could be installed by the second quarter.
Initial application
In the Washington, D.C., area, some clinicians are using a new VA application called Clinic in Hand on Apple devices to view clinical records and add information to them. That application likely will be the first to be widely used nationally on iPhones and iPads later this year once the mobile device management system is in place, Baker said.
To help ensure security, no records are stored on the devices that are loaded with the Clinic in Hand app. And the new application, like all apps running on the VA's mobile devices, uses encryption.
Baker reiterated April 25 that the VA eventually will also accommodate the use of mobile devices running the Android operating system if they pose no new security risks. "We know we're going to need to make the tools available on multiple mobile platforms," he said.