Information Security Analysts Jobless Rate: Zilch
Feds, for First Time, Unveil Job Data for an IT Security Occupation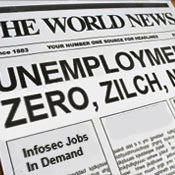 Some 37,000 individuals in the United States consider themselves information security analysts, and according to a government survey published Friday, they all have jobs.

The Labor Department's Bureau of Labor Statistics for the first time included an IT security occupation - information security analysts - among the job categories its survey takers ask when compiling the data used to determine the nation's unemployment rate.

Those 37,000 information security analysts represent a fraction of the overall number of people in the United States holding IT security and information assurance jobs. An estimated 150,000 people work in IT security just at government agencies, in the military and for operators of the nation's critical IT infrastructure, says Alan Paller, research director at the SANS Institute, an IT security research and education organization. Paller's estimate does not include IT security practitioners working for non-government and non-critical infrastructure industries.

"Because there are more than 15 separate roles in the security space, the numbers for the term information security analysts are low but possible," Paller says. "Most people who do security tasks - especially technical tasks - consider themselves security engineers or systems engineers or auditors or assessors, or technical support specialist or similar titles included elsewhere. So these are just the people who have the policy and planning roles."

Indeed, in defining the information security analysts occupation, the government specifically mentioned it did not include computer network architects, many of whom include security measures in their designs.

The government broadly defines information security analysts as those who plan, implement, upgrade or monitor security measures for the protection of computer networks and information. Information security analysts may ensure appropriate security controls are in place that will safeguard digital files and vital electronic infrastructure as well as respond to computer security breaches and viruses.

To put information security analysts employment into perspective, the U.S. workforce - those employed and the unemployed looking for work - topped 151.6 million people during the first three months of 2011. That means the 37,000 employed as IT security analysts represented a microscopic 0.0024 percent of the overall workforce.

And, IT security analysts represent just over 1 percent of all non-managerial computer professionals. Analyzing the BLS data, the IT unemployment rate for the first quarter stood at 4.7 percent, compared with an overall jobless rate of 8.8 percent. If computer and information systems managers are included in the calculation of all computer-tied occupations, the IT workforce number reaches 4.013 million, with an IT unemployment rate of 5 percent.

The number of IT security analysts working in the U.S. as well as the apparent zero percent unemployment rate should not be taken as gospel. The government surveys 60,000 households each month, so only a minute number of households would have an IT security analyst living in them. BLS does not provide an unemployment rate for any occupation group; Information Security Media Group arrives at unemployment figures by analyzing BLS data. BLS does not post the quarterly employment data on its website, though it's available upon request.

Still, the data BLS provides on information security analysts in its quarterly report shed some light onto one segment of the IT security profession. Whether or not the unemployment rate is truly zero, IT security analysts belong to a profession that employers say they can't find enough workers with those skills, and nearly everyone with them can find a job.

The survey also reveals that the vast majority of information security analysts working in the United States are white men. According to the data, the IT security analyst profession is made up of 12 percent women, 10 percent African-Americans, 7 percent Asians and 15 percent Latinos. Perhaps reflecting the small sample size, the survey failed to record any Asian or Hispanic women employed as information security analysts. Among African-Americans, women represented half of the IT security analysts. Women accounted for 11 percent of white IT security analysts.

Karen Evans, national director of the U.S. Cyber Challenge, which sponsors programs to get high school and college age students to consider IT security careers, said the BLS data confirms what many people "intuitively" knew about the profession. "It will also help to measure progress and results of efforts such as the cyber competitions as to which ones are affective in attracting different demographic populations into this growing profession," she said.

The Labor Department each decade changes occupation definitions to reflect the evolving American workplace. The new job categories - derived from the 2010 Standard Occupation Classification Systems - includes 11 non-managerial computer-related occupations compared with seven used during the first decade of the new century. In the 1990s, the government defined only three computer-related occupations. BLS cautions against comparing the 2011 data against those issued for the past decade. "Particularly at the detailed occupation level, data for 2011 are not comparable with data for earlier years," says BLS Economist Karen Kosanovich. "There are some occupations where the name does not change, but the definition of the occupation did change."

Employing the former definitions, Information Security Media Group calculated that IT employment in the United States ended 2010 at nearly a two-year high of 3.9 million, with a workforce topping 4.1 million. The 2010 IT unemployment rate was pegged at 5.4 percent (see IT Employment Ends 2010 Near 2-Year High).