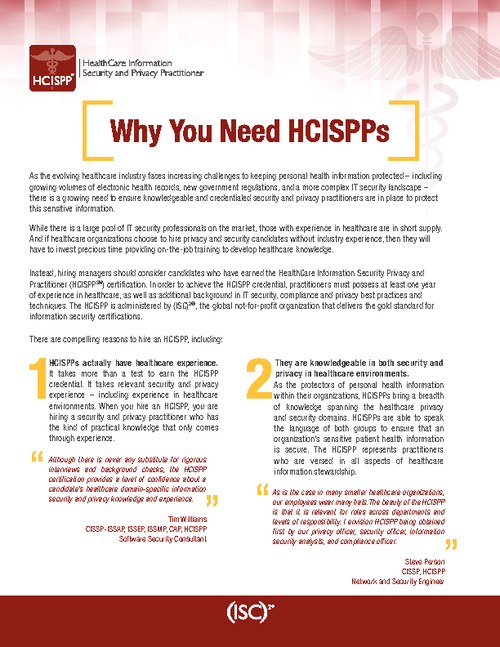 As the evolving healthcare industry faces increasing challenges to keep personal health information protected - including growing volumes of electronic health records, new government regulations, and a more complex IT security landscape - there is a growing need to ensure knowledgeable and credentialed security and privacy practitioners are in place to protect this sensitive information.
While there is a large pool of IT security professionals on the market, those with experience in healthcare are in short supply. And if healthcare organizations choose to hire privacy and security candidates without industry experience, then they will have to invest precious time providing on-the-job training to develop healthcare knowledge. Instead, hiring managers should consider candidates who have earned the HealthCare Information Security Privacy and Practitioner (HCISPP) certification.
This white paper explains why:
HCISPPs have healthcare experience (a year of experience in healthcare is required in order to get certified);
HCISPPs are knowledgeable in both security and privacy in healthcare environments;
Employing HCISPPs offers a key differentiator for your organization, particularly for those firms that provide services to the healthcare industry.