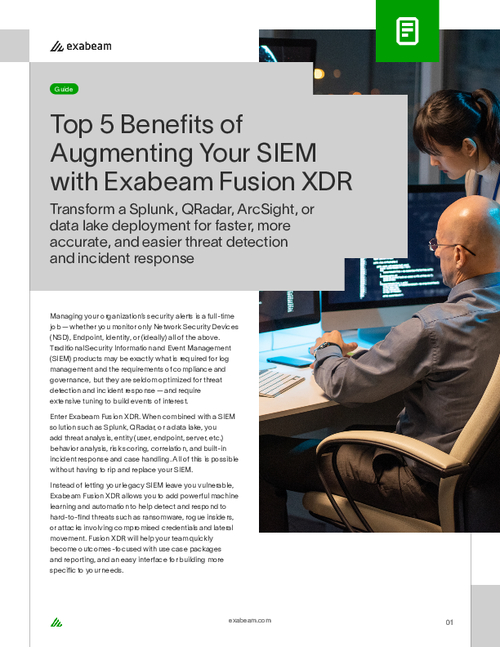 Managing your organization's security alerts is a full-time job — whether you monitor only Network Security Devices (NSD), Endpoint, Identity, or (ideally) all of the above. Traditional Security Information and Event Management (SIEM) products may be exactly what is required for log management and the requirements of compliance and governance, but they are seldom optimized for threat detection and incident response — and require extensive tuning to build events of interest.
Enter Exabeam Fusion XDR. When combined with a SIEM solution such as Splunk, QRadar, or a data lake, you add threat analysis, entity (user, endpoint, server, etc.) behavior analysis, risk scoring, correlation, and built-in incident response and case handling. All of this is possible without having to rip and replace your SIEM.
Instead of letting your legacy SIEM leave you vulnerable, Exabeam Fusion XDR allows you to add powerful machine learning and automation to help detect and respond to hard-to-find threats such as ransomware, rogue insiders, or attacks involving compromised credentials and lateral movement. Fusion XDR will help your team quickly become outcomes-focused with use case packages and reporting, and an easy interface for building more specific to your needs.
Amplifying your SIEM with the addition of Exabeam Fusion XDR has many benefits — here are the top 5 quick wins.