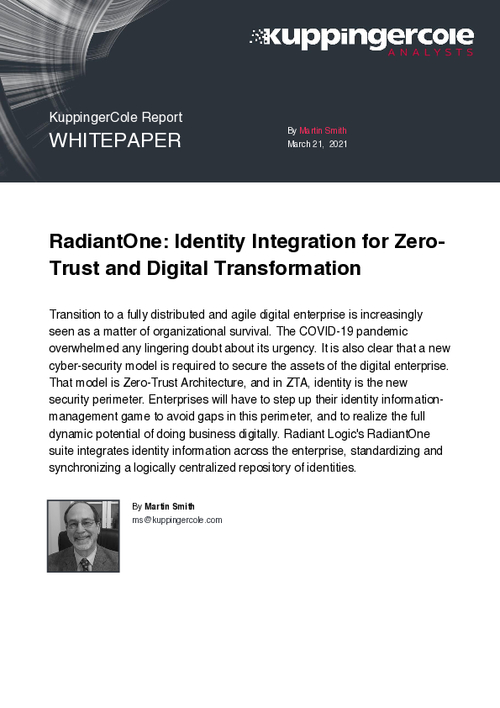 Transition to a fully distributed and agile digital enterprise is increasingly seen as a matter of organizational survival. The COVID-19 pandemic overwhelmed any lingering doubt about its urgency. It is also clear that a new cyber-security model is required to secure the assets of the digital enterprise.
That model is Zero-Trust Architecture, and in ZTA, identity is the new security perimeter. Enterprises will have to step up their identity information-management game to avoid gaps in this perimeter, and to realize the full dynamic potential of doing business digitally. Radiant Logic's RadiantOne suite integrates identity information across the enterprise, standardizing and synchronizing a logically centralized repository of identities.
The balance of this whitepaper will focus on security, and to a lesser extent on agility, as they are where corporate IT can contribute the most:
Continual innovation-Figuring out how the latest technology can be used to create business value will be an ongoing and vital activity, but it is most consequential in the business units;
Business agility-Corporate IT has a critical role in enabling business agility: implementing the capability for flexible, fast, and efficient reconfiguration of the digital infrastructure;
Security of digital assets-Corporate IT (together with the corporate CISO, depending on how these functions are organized) also has lead responsibility for developing and implementing the enterprise cyber-security strategy.