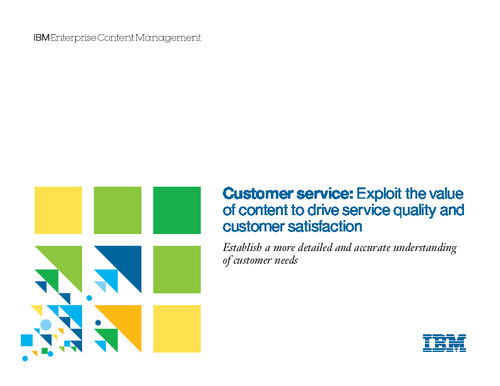 Every interaction is an opportunity to foster customer loyalty. A satisfying experience can be remembered for years and rewarded with repeat business, positive reviews to friends and on social media, and even brand evangelism. A negative experience, however, can ruin a relationship and damage brand reputation. Superior service quality throughout the customer life cycle from on-boarding to self-service to resolution of complex service requests is essential in an age of global competition and discriminating customers empowered by mobile devices and social media. How effectively your organization delivers service can be a make-or-break factor in your long-term success. Organizations can improve service quality with processes and technologies to obtain greater value from information acquired throughout the customer life cycle. Significant volumes of unstructured information from mail, email, call logs, SMS, billing statements, confirmation letters and social media have the potential to provide a more detailed context for customer understanding. The challenge for these organizations is how to capture, aggregate and analyze this information to gain greater customer understanding, and then translate that understanding into strategies and actions that improve customer service across relevant channels.
Download the White Paper to explore:
How service can enhance or harm the customer experience;
What are the emerging challenges to quality customer service;
How to address new service challenges.