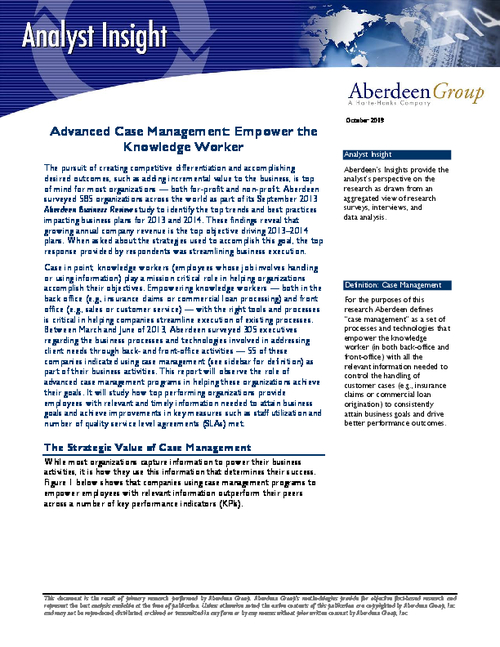 The pursuit of creating competitive differentiation and accomplishing desired outcomes, such as adding incremental value to the business, is top of mind for most organizations-both for profit and non profit. Aberdeen surveyed 585 organizations across the world as part of its September 2013 Aberdeen Business Review study to identify the top trends and best practices impacting business plans for 2013 and 2014. These findings reveal that growing annual company revenue is the top objective driving 2013-2014 plans. When asked about the strategies used to accomplish this goal, the top response provided by respondents was streamlining business execution. Case in point, knowledge workers (employees whose job involves handling or using information ) play a mission critical role in helping organizations accomplish their objectives. Empowering knowledge workers-both in the back office (e.g. sales or customer service) -with the right tools and processes is critical in helping companies streamline execution of existing processes. Between March and June of 2013, Aberdeen surveyed 305 executives regarding the business processes and technologies involved in addressing client needs through back-and front-office activities. 55 of these companies indicated using case management as part of their business activities. This report will observe the role of advanced case management programs in helping these organizations achieve their goals. It will study how top performing organizations provide employees with relevant and timely information needed to attain business goals and achieve improvements in key measures such as staff utilization and number of quality service level agreements (SLAs) met.
Download the White Paper to explore:
What the strategic value of case management is;
What the building blocks of effective case management are.