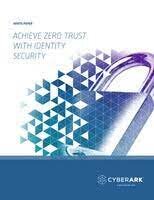 Traditional perimeter-based security relies on trying to separate the "bad guys" from the "good guys" and assumes that systems and traffic within the confines of the corporate network can be trusted. Zero Trust assumes that the bad guys are already in your network and have access to your applications and systems.
As we witness the traditional network security perimeter quickly dissolve and perimeter-focused architectures becoming irrelevant, enterprises are looking toward identity-focused security measures to protect new "perimeterless" networks and new forms of working.
How can you protect access to you most valuable resources – data, applications, and infrastructure – on-prem or in the cloud?
The only practical control plane still available across all networks, devices, users, applications, are identity-centric controls. With Zero Trust, no actor can be trusted unless they're continually verified. It's a holistic, strategic approach to security that ensures that everyone and every device granted access is who and what they say they are.
This whitepaper will help you understand:
How a Zero Trust approach helps protect against identity-based attacks;
The key elements of Zero Trust;
How Identity Security provides the controls you need to implement a Zero Trust model.