VA, Medicare Ease EHR Downloads
'Blue Button' Projects Use Secure Websites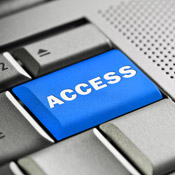 Medicare and the Department of Veterans Affairs have formally launched "blue button" projects that enable patients to more easily download certain health information from secure websites.

The Markle Foundation has been promoting the blue button approach, which enables patients to download text versions of portions of electronic health records and other information in the format of an organized report.

The VA is enabling veterans to use the blue button function by logging onto their My HealtheVet account. The account, which creates a personal health record, includes test results, health history and other information.

The blue button also is available on MyMedicare.gov, providing the ability to download certain Medicare claims-related information as well as patients' self-entered information.

In the testing phase of the two projects, more than 5,600 Medicare beneficiaries and 60,000 veterans used the blue button function, according to a White House statement.
Privacy, Security Policies
The blue button concept, which the Markle Foundation developed in collaboration with other groups, calls for the use of a set of privacy and security policies building on the Markle Common Framework for Networked Health Information.

For example, the concept recommends alerting patients to the implications of downloading portions of EHRs and other information, such as warning against downloading records to a shared computer, says Josh Lemieux, director of personal health technology at the Markle Foundation. It also includes details about authentication methods and requires that requests for records be logged with an audit trail so they can be tracked.

Once they securely download records, patients will be able to check them for errors and enter information into spreadsheets or personal health records to help manage their health, Lemieux explains. They can print the information, save it on a computer or storage device or share it with healthcare providers.
Follow VA, Medicare
The foundation hopes that hospitals, physicians, pharmacies, insurers, health information exchanges and others eventually will follow the lead of the VA and Medicare and offer a blue button on their secure websites, Lemieux says.

The blue button can help organizations comply with certain federal obligations, he adds. Proposed modifications to HIPAA privacy, security and enforcement rules, as called for under the HITECH Act, require healthcare organizations to provide patients with electronic copies of their records. Plus, "meaningful use" requirements for earning HITECH incentive payments from Medicare and Medicaid for using EHRs include providing patients with electronic copies of their information.
White House Announcement
In announcing the start of the two federal blue button projects, the White House also announced that Adobe's Blue Button Health Assistant was selected as the winner of a developer's challenge, sponsored by The Markle Foundation and the Robert Wood Johnson Foundation. The application uses the blue button concept to ease linking data from various sources.

In addition, Microsoft has unveiled a blue button capability for its HealthVault personal health record platform that will enable downloading of VA and Medicare information into a PHR.
Support for EHR Access
A new survey, sponsored by the Markle Foundation and conducted by Knowledge Networks, found that:
70 percent of patients and 65 percent of physicians agree that patients should be able to download and keep their own copies of personal health information.
62 percent of patients and 49 percent of doctors agree that requiring that patients receive secure online copies of their health information from participating doctors and hospitals is important.
Yet 93 percent of patients say they rarely or never ask for copies of their health information in an electronic format.