Using Tablets to Obtain Patient Consent
Pilot Project to Test 'Meaningful Consent' for Health Info Exchange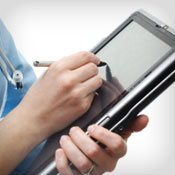 Patients in western New York soon will test-drive a tablet-based application designed to educate them about their choices in granting consent to have their records exchanged among providers.
See Also: Live Discussion | Securing Business Growth: The Road to 24/7 Threat Detection and Response
The pilot project, to be launched in September, will test the concept of enabling patients to "meaningfully consent" to data exchange, says Joy Pritts, chief privacy officer at the Department of Health and Human Services' Office of the National Coordinator for Health IT. The Health IT Policy Committee, which advises ONC, and its Privacy and Security Tiger Team have endorsed giving patients more information on consent for data exchange. "By 'meaningful consent', they meant that individuals would really understand what they were consenting to and would be informed about how their information would be shared," Pritts says.
The project will be tested at a hospital and three clinics that are participants in the HEALTHeLINK health information exchange. It will use technology from APP Design. If the project is successful, the patient consent education application will be made available in the open source arena, Pritts says.
Tablet Computers
Patients visiting one of the participating provider sites will be given a tablet computer to use in the waiting room. The application on the tablet will enable them to select as much, or as little, information about health information exchange and patient consent as they want before making a decision on whether to authorize the exchange of their records through HEALTHeLINK. "They can go as deep as they want to learn more," explains Robert Quinn, president of APP Design.
Patients will be given several consent options, including allowing records exchange in all circumstances, denying all exchanges, allowing exchange only in an emergency and allowing exchange with exceptions, such as prohibiting certain organizations from receiving the information.
Participants in the pilot will complete a brief survey about whether they found the tablet-based application helpful in making their consent decision, Quinn says. Also, APP Design will analyze how much information patients generally accessed before making their consent decision.
Next Steps
ONC eventually will prepare a report on the pilot project and potentially develop standards for the presentation of patient consent educational information, Pritts says.
"We often hear that one of the impediments to using a consent approach is that it is so time-consuming on behalf of the provider," she says. "This is designed to see if we can handle this ... in a more efficient manner. ... The patient has control over how much information they get about consent."
ONC will launch a separate data segmentation project later this year designed to determine the feasibility of enabling patients to designate what specific portions of their records can be exchanged; some call this "granular consent."