Critical Infrastructure Security , Cyberwarfare / Nation-State Attacks , Fraud Management & Cybercrime
US Senators Warn of National Security Threats From China
Intelligence Committee's Top Republican and Democrat Back DNI Assessment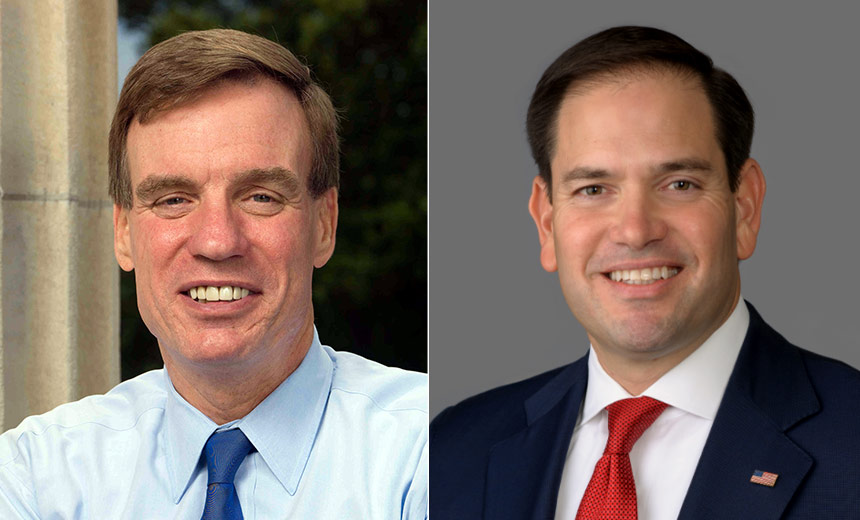 The top Republican and Democrat on the U.S. Senate Intelligence Committee issued a warning Friday about the national security threats posed by the Chinese government, including the country's growing cyber capabilities.
See Also: Cyberwarfare in the Russia-Ukraine War
Florida Republican Sen. Marco Rubio, the acting chairman of the Senate Intelligence Committee, and Democratic Sen. Mark Warner of Virginia, who is the vice chairman of the committee, issued their statement after an article was published by Director of National Intelligence John Ratcliffe that claimed China "poses the greatest threat to America today."
In an opinion piece published in The Wall Street Journal on Thursday, Ratcliffe notes that China's growing cyber capabilities are an increasing concern to America's national security interests.
"China already suppresses U.S. web content that threatens the Communist Party's ideological control, and it is developing offensive cyber capabilities against the U.S. homeland," Ratcliffe notes. "This year China engaged in a massive influence campaign that included targeting several dozen members of Congress and congressional aides."
In their statement, Rubio and Warner echoe those concerns and called out China for other security issues, such as allegedly stealing intellectual property from U.S. companies to help it sustain and expand its economic prowess.
"Unfortunately, the United States' challenge with China is not unique as Beijing seeks to infiltrate and subvert other nations around the world, including our allies," Rubio and Warner note. "This is our watershed moment and we must stand our ground. The United States must not and cannot accept Beijing's quest to exert dominance while dismissing international legal norms and committing egregious human rights abuses to further their goals."
The statement from Rubio and Warner, as well as the Ratcliffe article, come in the same week that the Office of Director of National Intelligence noted that it plans to increase the portion of its budget dedicated to China by about 20% this year to keep up with the threats posed by the country. While precise amounts remained classified, the Journal reports that the annual U.S. intelligence budget is about $85 billion.
Actions Against China
Over the past four years, the Trump administration has taken a hard-line approach to China when it comes to issues of national security and the country's ability to influence politics and policy in the U.S.
This included the U.S. Federal Communications Commission designating Huawei and ZTE, which are both based in China, as threats to U.S. national security because they could exploit vulnerabilities in America's telecom networks to spy on communications on behalf of the Chinese government. As part of this designation, U.S. telecom companies and wireless carriers can no longer tap into the FCC's $8.3 billion Universal Service Fund to buy equipment from the two companies, and the commission is requiring these telecoms to rip and replace the Chinese equipment from their networks (see: FCC: Rip and Replace Huawei, ZTE Gear to Cost $1.8 Billion).
The Trump administration has also sought to ban social media apps TikTok and WeChat from the U.S., although its orders have been challenged by both companies in federal court (see: Commerce Department Lets TikTok US Operations Continue).
In the run-up to the November election, China, as well as Russia and Iran, were singled out by the Office of the Director of National Intelligence as trying to influence the U.S. election through disinformation campaigns and other means (see: US Intelligence Adds More Details on Election Interference).
In their statement, Rubio and Warner note that China will likely continue to influence U.S. politics and policy into next year, when President-elect Joe Biden begins his administration.
"Beijing's infiltration of U.S. society has been deliberate and insidious as they use every instrument of influence available to accelerate their rise at America's expense," the two senators note.
Hacking Linked to China
Even before Rubio and Warner issued their statement, other U.S. agencies had warned about threat actors with links to China and how various hacking campaigns look to benefit that country.
In May, the FBI and the U.S. Cybersecurity and Infrastructure Security Agency warned that hacking groups linked to China's government were targeting research and healthcare facilities that are working on developing vaccines, testing procedures and treatments for COVID-19 (see: US Says China-Linked Hackers Targeting COVID-19 Researchers).
Earlier this week, CISA warned of nation-state hackers targeting U.S. think tanks to steal intellectual property and spy on those influencing policy. While not named in the report, Chinese-linked hacking groups have been found by security researchers attempting to infiltrate these organizations in the past (see: Alert: APT Groups Targeting US Think Tanks).
In February, the U.S. Justice Department indicted four members of China's People's Liberation Army for the 2017 data breach at Equifax, which affected about 145 million Americans. At the time, Attorney General William Barr called the breach one of the largest thefts of intellectual property ever conducted by cyberspies associated with China (see: No Surprise: China Blamed for 'Big Data' Hack of Equifax).