University Bans Social Media
What's it Like to Go a Week Without Facebook?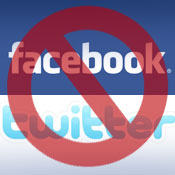 No more Facebook, no more LinkedIn, no more Twitter - not this week, at least.

Harrisburg University has banned these social media sites, as well as MySpace and AOL Instant Messenger, for one week on the Pennsylvania campus, starting September 13.

The ban is not because of any security or privacy issue. Rather, it is an experiment to make students and faculty members think about the significance of social media and how best to benefit from this channel in its absence.

"We're not trying to stop all access to these sites," says Charles Palmer, executive director of the Center for Advanced Entertainment and Learning Technologies. "We're trying to enhance people's ability to reflect on how technology impacts their daily lives and really generate valuable conversations."

The ban is for on-campus students and faculty staff members. Information technology officials at the university have blocked access to popular social media sites from computers using the campus network. E-mail and texting are not restricted.

However, students and staff members desperate for social media interaction can still access social media sites through smartphones outside the school's premise.
Mixed Reactions
Ashley Green, a Harrisburg student, experienced sheer panic when she heard about the ban. She continues to access these sites via her cellphone. "I really am dependent on Facebook, which is why I have chosen to go against the idea of abstaining," she says. "For me it is more than just updating a personal status; it's how I can get help with homework through video chat or send a message out to a group of people more easily."

For another student, Giovanni Acosta, "Being cut off feels like I forgot my cellphone at home," she says. "I can live without all my technology, but it makes my life easy."

Palmer is taking the ban seriously and does not intend on using social media in any way this week.

"We want our students to think very carefully about the technology they use, because some of them will become future technologists," says Palmer. "As they create those new technologies, they need to think about how it's going to get used and what's the impact of technology on the end-user in the delivery of information."

At the end of this week, students will be asked to write essays reflecting on the impact of technology and the absence of social media in their daily lives. Interactive classroom discussions will also be initiated to address issues related to the value and safety of online networking.

Harrisburg University of Science and Technology was founded in 2001 and is known for its unconventional values and eagerness to try new ideas. The university provost, Eric Darr, got the social ban idea while noticing his daughter's reliance on multiple forms of electronic communication and thinking "What if it wasn't there?"
Social Media Experts Weigh in
There are mixed feelings among social media experts on the value and outcome of this experiment.

"It's an intriguing idea, but am not sure what they hope to gain by doing this," says Sree Sreenivasan, professor at the Columbia Graduate School of Journalism. "People are likely to just log on from outside campus or their mobile devices."

According to Jerry Mechling, a prominent author and lecturer at the Harvard Kennedy School, "People depend a lot on those they trust. Making those connections easier is powerful, as social media have demonstrated. But this is a new phenomenon, so studying and understanding better is valuable."

Dr. Sherrie A. Madia, a social network strategy expert and director of communications at the Wharton School, University of Pennsylvania, admitted that she was frightened when she first heard of this experiment. But after deeper reflection, she says, "We need to stop for a moment to think, why we are doing, what we are doing. This experiment has enriched our education, as we begin to understand the end-game in online and offline space."
Business Impact?
The idea of removing social media capabilities to evaluate the impact on employee performance and capabilities is an interesting idea, but could have critical business impacts, says John Pironti, President of IP Architects, LLC and advisor to ISACA. "Unfortunately, as part of this adaptation, employees may utilize methods and practices that are inherently insecure and outside of the governance or control of the organization."

In the workplace, this kind of ban could result in loss of employee productivity and an increase in employee frustration, leading to insider threat and other criminal activities, Pironti says. "I think the greatest thing that security professionals can learn from this kind of experiment is to closely monitor individuals as they adapt," he says. "This will allow them to be proactive instead of reactive in their approach to this type of situation, if it were ever to become a reality in their business environments."