Two Final HITECH Rules Unveiled
'Meaningful Use' Criteria and EHR Software Standards Outlined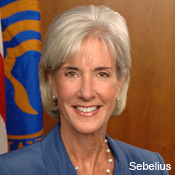 Two final rules that spell out how to qualify for the federal incentive program for electronic health records were released July 13. Both rules address the issues of privacy and security.

Health and Human Services Secretary Kathleen Sebelius and other federal officials unveiled the final version of the so-called "meaningful use" rule that defines how hospitals and physicians must use EHRs to qualify for the Medicare and Medicaid incentive payments under the Health Information Technology for Economic and Clinical Health Act, also known as the HITECH Act. They also revealed the final version of a rule spelling out standards that EHR software must meet to become "certified" as qualifying for the incentive program.

The 864-page meaningful use rule, "Medicare and Medicaid Programs: Electronic Health Record Incentive Program," and the 228-page EHR certification standards rule, "Health Information Technology: Initial Set of Standards, Implementation Specifications, and Certification Criteria for Electronic Health Record Technology," are available at the Federal Register public inspection desk and will be officially posted on the Federal Register July 28. The meaningful use rule will go into effect 60 days after that posting, while the certification standards rule will go into effect after 30 days.
Stimulus Funding
The HITECH Act, passed as part of the American Recovery and Reinvestment Act, also known as the economic stimulus bill, will provide billions of dollars in Medicare and Medicaid incentive payments to physicians and hospitals that make "meaningful use" of EHR software that meets certification standards.

President Obama has set a goal of having EHRs available to all Americans by 2014.

Hospitals can begin applying for the first phase of incentives in September, while physicians can apply starting in January. Requirements for meaningful use and for software certification will evolve in future phases of the incentive program.

The final meaningful use rule relaxes certain requirements for phase one of the program that had been included in an earlier proposed version of the rule. For example, the final rule requires physicians to submit 40 percent of prescriptions electronically, rather than 75 percent.
Getting Results
The meaningful use rule is necessary to ensure that healthcare organizations go beyond just "using technology for technology's sake," Sebelius said at a July 13 press briefing. The rule will help ensure the technology will be used to "deliver better care and give consumers more control over their own healthcare," she said.

Ensuring the privacy and security of EHRs is a "foundational requirement" for the federal government's efforts to promote electronic records, said David Blumenthal, M.D., national coordinator for health information technology. Without the "faith and trust" of Americans that their electronic records will be protected, the quality improvement and cost-cutting benefits of EHRs will not be realized, he added.
Other Rules
On July 8, HHS unveiled a proposal to update the HIPAA privacy, security and enforcement rules, which was required under the HITECH Act. Among other things, the proposal clarifies that business associates and their subcontractors must comply with the HIPAA rules.

And on June 24, HHS introduced a final rule for a temporary program for selecting certifiers for EHRs under the incentive program. These certifiers will determine whether the software meets the certification standards spelled out in the final rule issued July 13.

Be sure to check www.HealthcareInfoSecurity.com for further details on the rules.