DDoS Protection , Governance & Risk Management , Security Operations
Turkey Blocks WikiLeaks Following Failed Military Coup
Whistleblowing Website Dumps Data on Ruling Party to Protest Purge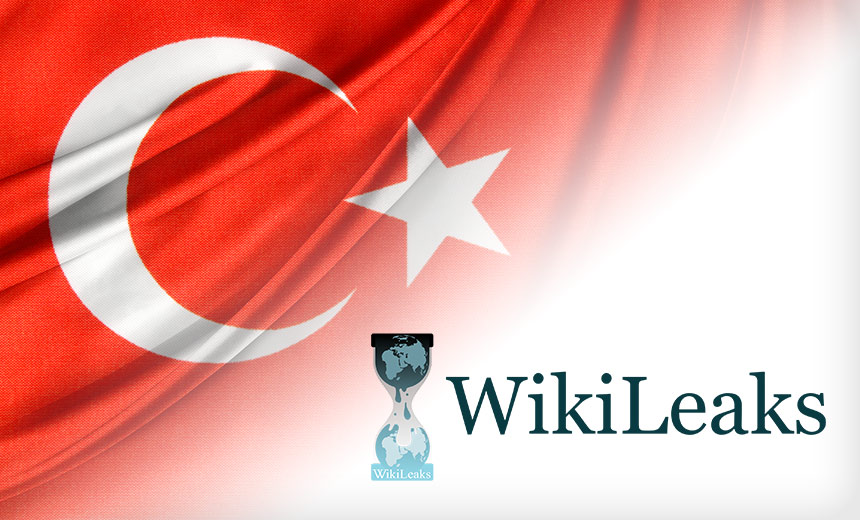 Following the failed July 15 military coup in Turkey, the government has blocked access to the whistleblowing website WikiLeaks after it published nearly 300,000 internal Turkish government emails.
See Also: Live Webinar | SolarWinds Breach: If Cyber Companies Can Get Hit, Do You Stand A Chance?
WikiLeaks says the published information is not related to the coup plotters. "The material was obtained a week before the attempted coup. However, WikiLeaks has moved forward its publication schedule in response to the government's post-coup purges," the organization says. "We have verified the material and the source, who is not connected, in any way, to the elements behind the attempted coup, or to a rival political party or state."
The purges have focused on removing people from various positions of power or influence who are seen to be opposed to the ruling Justice and Development Party, or AKP, headed by Turkish President Recep Tayyip Erdoğan. WikiLeaks said that its recent promise to publish the 300,000 emails and 500,000 documents, all relating to the AKP, led to its site facing a 24-hour distributed denial-of-service attack.
But on July 19, WikiLeaks said that it had successfully blocked the attack and proceeded with the release of the information, as part of what it's dubbed "OpTurkey." The organization has promised to translate the emails and documents from Turkish to English "to provide a better understanding of the ongoing situation in Turkey."
Editor's note: The WikiLeaks data dump "leaked massive databases containing sensitive and private information of millions of ordinary people, including a special database of almost all adult women in Turkey," according to UNC's Zeynep Tufekci. To protect their privacy, ISMG has removed its link to a WikiLeaks tool designed to search the information.
Inside Turkey, however, the government's communications watchdog is reportedly blocking all access to WikiLeaks. Anyone attempting to access the site instead sees a message from the Information and Communication Technologies Authority - known as the BTK - saying that due to an "administration measure" access to the website is being blocked.
President Takes to Social Media
The failed coup in Turkey saw warplanes firing on government buildings - including the parliament in the capital of Ankara - as well as tanks taking to the streets in major cities. But the coup was foiled after Erdoğan, who was on vacation in the resort town of Marmaris at the time of the attacks - and who evaded commandos sent to capture him - contacted a Turkish television station using his iPhone and the FaceTime application.
Television cameras showed Erdoğan live as he held a video chat with the news anchor, calling on citizens to take to the streets and put down the coup. The president also repeated that message via Twitter.
As Zeynep Tufekci, an assistant professor at the University of North Carolina School of Information and Library Science, writes in The New York Times, that's an ironic turn of events for a prickly politician whose government regularly bans dissidents' accounts on social media and slows down access to Twitter and YouTube, among other sites.
Post-Coup Purge
The coup was ultimately put down by pro-Erdoğan military forces as well as civilians who took to the streets. The government says the coup led to the deaths of at least 294 people, while 1,400 were wounded. But those official figures appear to refer solely to civilians, rather than any of the alleged coup plotters or military forces who supported them.
In the aftermath of the coup, President Erdoğan has been purging those deemed to be disloyal to his government. Authorities quickly rounded up 3,000 suspected military plotters, ranging from general and admirals to foot soldiers, as well as an equal number of prosecutors and judges, Reuters reports. An estimated 50,000 civil servants have also been arrested, fired or asked to resign, according to state-run media, while 20 news outlets that have been critical of the government have been blocked, the Guardian reports.
History of Censorship
Despite the "Internet [saving] Turkey's Internet-hating president" - as Tufekci puts it - the nation is unlikely to usher in a new era of press freedoms.
"The failed coup is a gift for President Erdoğan, giving him all the justification he needs to implement further clamp down measures against any dissenters, in the process sinking Turkey deeper into authoritarianism," says Mostafa Minawi, an assistant professor of history at Cornell University. "The failed coup will make the narrowing range of acceptable political opposition in Turkey ... even narrower. Much as we are witnessing in other parts of the world, aggressive populist politics is on the rise in Turkey." (See Brexit: What's Next for Privacy, Policing, Surveillance?)
The Turkish government regularly blocks or slows access to social media, according to Turkey Blocks, an organization that tracks the government's censorship.
The government also regularly attempts to excise unfavorable content from social media channels. In 2015, for example, the majority of all government-level requests to Twitter "to remove or withhold content" came from the Turkish government, followed by Moscow, according to Twitter's transparency report.
During the six-month period from July 2015 to December 2015, Twitter received 450 court orders and 1,761 government-level removal requests from Turkey, compared with 6 court orders and 1,729 removal requests from the Russian government.
"This reporting period also overlapped with Turkey's follow-up elections in November of 2015," Twitter notes. "Between July and December of 2015, we filed legal objections with Turkish courts in response to 66 percent of the Turkish orders received, focusing many of our efforts on those demands seeking removal of content critical of public figures or allegations of corruption. Our objections prevailed 6 percent of the time."
Turkey Fined Twitter
In December, meanwhile, Turkey's BTK communications watchdog fined Twitter 150,000 lira - worth about $50,000 - for failing to block content that was "praising terrorism, targeting the security forces and inciting hatred and violence."
The BTK didn't identify the offending content, but the government has been battling the outlawed Kurdistan Workers' Party, or PKK, which has continued to launch attacks on Turkish security forces.
On July 20, Turkish state media reported that the government had resumed airstrikes against PKK forces in northern Iraq for the first time since the failed coup, according to wire service Agence France-Presse.
Updated 7/25/2016 to remove link to data dump indexed by WikiLeaks.