Governance & Risk Management , HIPAA/HITECH , Standards, Regulations & Compliance
Top 10 Influencers in Health InfoSec
Third Annual List of Healthcare Security Leaders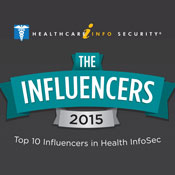 HealthcareInfoSecurity announces its third annual list of Influencers to recognize leaders who are playing a significant role in shaping the way healthcare organizations approach information security and privacy.
Each of these Influencers for 2015 has made a substantial impact. Their influence ranges from shaping national health data security and privacy regulations and enforcement to providing breach prevention and data protection insights.
See Also: Live Webinar | Navigating the Difficulties of Patching OT
Our selections include some well-recognized leaders as well as a few individuals whose focus on security and privacy behind the scenes offer a role model for others.
Our editors, with input from our editorial advisory board members, made the selections of the Influencers based on the impression they've left over the last year, as well as the impact we expect them to have in 2015 and beyond. We also made the selections based on interviews with leaders and our news coverage throughout 2014.