Fraud Management & Cybercrime , Social Media
Social Media Ban: Lessons Learned
Harrisburg University Students Felt Less Stress During Blackout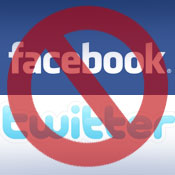 Remember Harrisburg University, the Pennsylvania school that banned social media on campus for a week last September?

Well, in a survey conducted by the school in the wake of the blackout, 33% of students said they felt less stressed during that week, without having to compulsively check updates and posts on social networks.

In fact, one student told university provost Eric Darr that she felt she was on vacation during the blackout week.

Harrisburg made headlines during the week of September 13 -17 for an on-campus ban of social media sites such as Facebook, MySpace and Twitter. The blackout affected all students, faculty and staff at the university.

The goal of the social media blackout was to raise awareness about the strengths and weaknesses of social media, says Darr. "Make people reflect on the power of social media and its potential to take over one's life."
Key Survey Findings
In an attempt to understand basic usage patterns and opinions, 221 students and 62 faculty and staff were surveyed about their social media habits and reactions to the blackout during and after the experiment.

The survey reveals that the majority of respondents are regular users of social media. Specifically, two-thirds report using Facebook on a daily basis, for mainly social purposes. In fact, 13% of student responders say they rely on Facebook to combat boredom between classes. Exactly half of student responses cite the use of YouTube regularly for academic and social purposes.

The survey results also suggest that a healthier, more productive life-style was practiced by students during the ban:
25% report better concentration in the classroom during the blackout week;
23% found lectures more interesting;
6% report eating better and exercising more.
Overall, school work was given a higher-priority when social media was unavailable.
On the flip side, the study also raises concerns about the heavy use of social media both by students and faculty. An even 40% of the student respondents spend between 11 and 20 hours per day using social media sites. Equally disturbing is that several faculty members and staff report spending more than 20 hours a day on social networking sites.
Lessons Learned
Survey results show that 44% of the students report that they learned something from the ban. During the blackout, these students were forced to use another tool for working on their business plan and discovered that it was easier than Facebook. Students learned that document management is not one of the core strengths of Facebook.

In all, 76% faculty and staff also report learning from the blackout, mainly focusing on the power of face-to-face dialogue over online interaction. They realized that teaching complex concepts is much easier by face-to-face communication and meetings.

Darr's personal takeaway is about understanding the impact of social media and implementing appropriate education and guidelines within the institution to mitigate some of the risks offered through these channels.

Darr says the school must emphasize "the pros and cons, so people know that social media is not all bad or good, but continues to have a powerful presence in our lives."

Asked if he would do this experiment again, he says "Yes. We will do a much more focused and longer ban next September."

Next time he plans to extend the ban to several weeks and focus the study on one specific social media channel, as well as adopt more comprehensive approach in assessing the impact.

"I am pleased in making habits on social media use more balanced and understandable in our university," Darr says. "It will be interesting to see what happens next."