Electronic Healthcare Records , Governance & Risk Management , Healthcare Information Exchange (HIE)
Senators Portray Patient Matching as an Urgent Issue
Watchdog Agency Asked to Produce 'Clear Recommendations' to Improve Quality, Avoid Fraud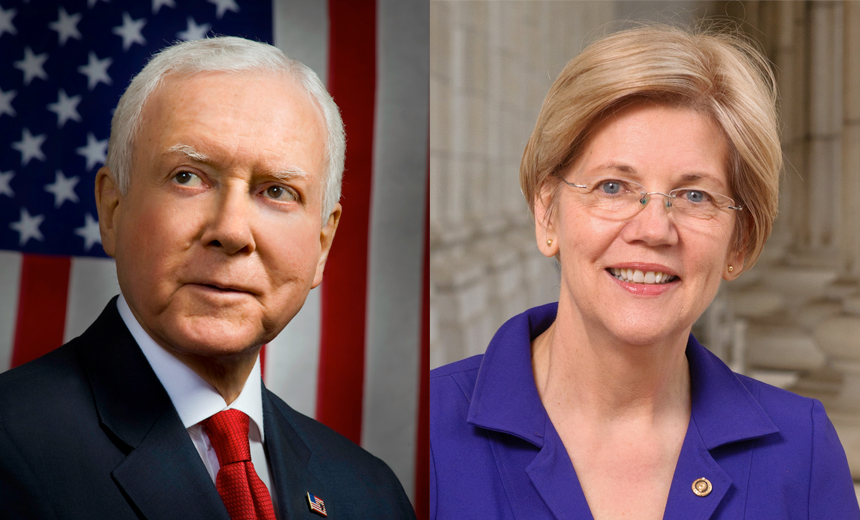 A bipartisan group of five senators, seeking to create a sense of urgency, has asked a watchdog agency to produce "clear recommendations" for how to make sure the right patients are matched to all the right records to help improve the quality of care and crack down on medical and identity fraud. This is an ongoing challenge as more records are exchanged because of the lack of a national patient identifier.
See Also: Panel Discussion | Driving Security, Privacy, & Compliance Goals by Accelerating HITRUST Certification
In their letter, the senators ask that the Government Accountability Office, in its ongoing study on the patient matching issue, produce specific recommendations for steps the Department of Health and Human Services' Office of the National Coordinator for Health IT can take to develop improved patient matching methods.
The senators signing the letter are Elizabeth Warren, D-Mass.; Orrin Hatch, R-Utah; Sheldon Whitehouse, D-R.I; Tammy Baldwin, D-Wis.; and Richard Cassidy, M.D., R-La.
"Patient misidentification can lead to inadequate, inappropriate and costly care and, in the worst cases, patient harm or death," the senators say. In addition to creating health risks, patient misidentification comes with financial costs, the senators note, pointing out that one study recently estimated the value of denied claims resulting from patient misidentification at the average hospital was $1.2 million annually.
Under the 21st Century Cures Act, which is focused on advancing medical innovation, the GAO is required to study whether HHS could improve patient matching by taking such steps as defining additional data elements to assist in patient data matching;, agreeing on a required minimum set of elements that need to be collected and exchanged; requiring electronic health records to have the ability to make certain fields required; and using specific standards. The GAO is required to submit its study to Congress by December 2018.
Navigating Obstacles
In their letter to the GAO, the senators note that HIPAA, which was enacted in 1996, required the creation of patient identifiers and other uniform standards for electronic data transmission to improve the reliability of health information. "However, Congress later banned the HHS from expending funds to develop a unique patient identifier system," the senators write.
"This has resulted in the development of patient identifiers that are often proprietary and unique to specific health systems, instead of one identifier that travels with a patient from provider to provider. Given this Congressional ban, HHS's ability to lead the development of solutions to patient matching is limited," the letter notes.
"In the absence of unique patient identifiers, ONC, as well as private sector health IT experts, have taken alternative steps to address the issue of patient matching, which will be reviewed in this [GAO] study", the senators write.
The senators are asking the GAO to expand its study to "provide data on the prevalence of patient data mismatches as well as the costs and risks associated with these mismatches."
The senators urge GAO to consider "how ONC could improve patient matching by considering the application of a national patient matching strategy. In evaluating the impact of patient matching efforts on factors like privacy and security of patient information, we hope you will at the same time consider the impacts on medical fraud, medical identity thefts and medical reimbursement."
Important First Step?
Some healthcare groups, including the Healthcare Information and Management Systems Society and the College of Healthcare Information Management Executives, already have been urging Congress to re-examine the patient safety, security and privacy challenges created by the ban on developing an unique, national patient ID standard (see Ease Ban on Unique Patient IDs, Groups Again Urge Congress).
"The question of a better patient matching system has been floating in the overall healthcare reform debate for almost 20 years," notes privacy attorney Kirk Nahra of the law firm Wiley Rein. "Congress, in somewhat of an over-reaction, banned the expenditure of any money to develop a patient identifier. That ban has been extended multiple times without a lot of discussion.
"Now, there seems to be some additional interest in Congress - on potentially a bipartisan basis - to at least examine the issue. This is very much a first step. However, the government has been hamstrung on even thinking about options, and this report from the 21st Century Cures law is a modest but important first step in that area."
HIPAA's call for development of a standard national patient identifier "generated some almost knee-jerk reactions about 'don't let the government track me'," he says. "Now, while that concern still exists, we also are seeing more and more situations where misidentification of individuals is either creating harms or not allowing certain benefits."
Developing a better patient identifier would help achieve some of the goals of health information exchange and the development of complete and accurate patient records, he adds.
Privacy attorney Adam Greene of the law firm Davis Wright Tremaine notes that patient safety and interoperable health records "are pretty bipartisan issues, and unique, interoperable health identifiers can help on both fronts."
The concern has always been that creating a new federal unique identifier for healthcare would lead to the same issues as with Social Security numbers, "where they are used for purposes outside their original scope and lead to fraud and other issues," Greene says. "I think it's a valid concern, and any effort on this front should be coupled with efforts to ensure any new unique identifier is not subject to abuse in medical identity theft or otherwise."