Senate Confirms Kirstjen Nielsen as DHS Secretary
Nielsen Will Oversee Efforts to Secure Federal IT and Critical Infrastructure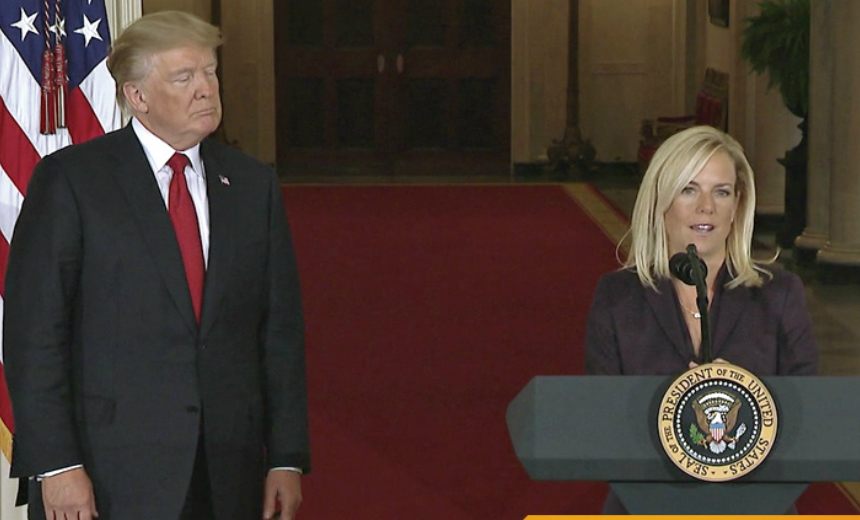 The U.S. Senate confirmed Kirstjen Nielsen as secretary of homeland security on a 62 to 37 vote Tuesday. No Republicans opposed her nomination.
See Also: OnDemand | Generative AI: Myths, Realities and Practical Use Cases
As leader of the Department of Homeland Security, Nielsen will oversee a massive bureaucracy of nearly 250,000 employees that help ensure the security of the IT assets of federal civilian agencies as well as the nation's critical infrastructure. She comes to the job with more cybersecurity and risk management qualifications than any of her predecessors, having founded a risk management firm.
Nielsen will also be the only DHS secretary who has previously worked at the department. During the George W. Bush administration, she served as special assistant to the president for homeland security and senior director for prevention, preparedness and response on the White House Homeland Security Council.
She's a protégé of former Marine General John Kelly, who had been DHS secretary until Trump tapped him to be White House chief of staff in July. She served as Kelly's chief of staff at DHS and eventually moved with him to the White House, serving as deputy chief of staff.
That relationship with Kelly concerned many Democratic senators, who opposed her nomination because they questioned whether she could stand up to him.
Lacks Big Organization Leadership
Also, Democrats questioned her lack of experience leading a large organization. "Why should we believe that, as smart as you are, and as well-spoken as you are, that someone who, as far as I know, never led an organization of even 100 people, much less 240,000, is ready to take on this responsibility?" Sen. Tom Carper, D-Del., asked during her confirmation hearing, according to The Hill.
Still, Nielsen received strong endorsements from Republicans, in and out of Congress, including two former DHS secretaries: Tom Ridge and Michael Chertoff. In a letter to Congress, they praised Nielsen's understanding of cybersecurity.
Stewart Baker, a former DHS assistant secretary for policy during the George W. Bush administration, credits Nielsen as being a significant force in cybersecurity policymaking at DHS during the early months of the Trump administration.
DHS Acting Secretary Elaine Duke, who will serve as Nielsen's deputy, said: "Nielsen is a homeland security expert with a deep understanding of the issues facing the Department and is well-positioned to lead us into the future."