Security Survey: Don't Miss It
Time Running Out to Participate in Inaugural Healthcare Study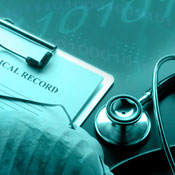 Don't miss your opportunity to participate in the Healthcare Information Security Today survey. Preliminary results show that about 40 percent of healthcare organizations rate their ability to counter security threats as poor, failing or in need of improvement. Not surprisingly, a similar percentage also cite the need for improvements in privacy and security training and awareness efforts.

There's still time to participate in HealthcareInfoSecurity's inaugural survey, designed to gauge top trends, threats and priorities. The survey targets chief information officers, chief information security officers and other senior executives at hospitals, clinics, integrated delivery systems and health insurers.

This web-based research study, created with the counsel of top healthcare and information security experts, explores how information security leaders are responding to today's key challenges.

"By participating in this important research project, you'll help us provide you with a detailed analysis of the status of healthcare information security, which you can then use to compare your organization's efforts with others and gain insights that you can apply to your security program," says Howard Anderson, HealthcareInfoSecurity's, executive editor.

In the weeks ahead, HealthcareInfoSecurity will present the final survey results in a variety of ways, including an executive summary, annotated report, interviews and a webinar.