RelayHealth Wins Blue Button Contest
Button Enables Secure Records Downloads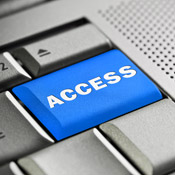 RelayHealth, a unit of McKesson that offers information exchange services, has won a contest designed to demonstrate implementation of the "Blue Button" approach to securely downloading certain patient records.

The contest, sponsored by the Department of Veterans Affairs, asked vendors to demonstrate that they had made the download function available to all the patients (including veterans) of at least 25,000 physicians. RelayHealth plans to donate its $50,000 prize to the Wounded Warrior Project.

By clicking a Blue Button icon on a secure website, patients can download text files of certain records and then choose to share the information with physicians or family members or make it available in an emergency. Patients can also authorize the use of a Blue Button transfer of their data from one physician to another.

The VA's Innovations Initiative sponsored the contest to help veterans who get their care outside the VA system get the same access to their data as those who receive care from the VA, which initiated Blue Button access in August 2010 through its MyHealtheVet website (See: VA Seeks to Expand Blue Button).

The Blue Button concept was developed by the Markle Foundation in collaboration with the VA, the Department of Defense and the Centers for Medicare and Medicaid Services. The concept calls for the use of a set of privacy and security policies building on the Markle Common Framework for Networked Health Information.

The Blue Button can help organizations comply with certain federal obligations. Pending modifications to HIPAA, as called for under the HITECH Act, would require healthcare organizations to provide patients with electronic copies of their records. Plus, "meaningful use" requirements for the HITECH Act's electronic health record incentive program require providing patients with electronic copies of their information.