The Quest for Cloud Security
Becky Swain of Cloud Security Alliance on New Initiatives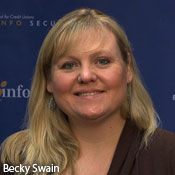 rsa2012_Becky_Swain_640x360
Cloud security - everybody is talking about it, but what's actually being done? Becky Swain, founding member of the Cloud Security Alliance, discusses transparency, compliance and a new mobile initiative.
See Also: OnDemand Webinar | Cloud applications: A Zero Trust approach to security in Healthcare
"What we believe is that cloud computing is going to be successful if we can remove this barrier around security, and compliance plays a key part in that," says Swain, who was interviewed at the recent RSA Conference 2012. "Within the CSA, having standards around what are the minimum security requirements, how do you deploy these solutions in a secure manner - is all that we're focused on."
Transparency - how cloud service providers attest to their security - is key to this initiative, Swain says.
In an exclusive video interview, Swain discusses:
The CSA's 2012 priorities;
Options for achieving transparency;
News around mobility.
Swain is a Founding Member of the Cloud Security Alliance (CSA) and the Security Lead for the Cloud Network of Women (CloudNOW) Special Interest Group (SIG). She has over 13 years of strategic and applied information security expertise with both a broad and deep understanding of the design and effectiveness of policies, processes, architectures and internal controls. As Co-Founder/Chair of the CSA Cloud Controls Matrix (CCM), Swain is actively engaged in evangelizing and developing the adoption of emerging Cloud security standards and risk management best practices. She is a Project Co-editor for the new international standard on supplier information security risk management, ISO/IEC 27036.