ONC Names Interim Leadership
Chief Privacy Officer to Remain in Position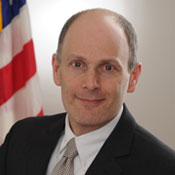 Two members of the senior management team at the Office of the National Coordinator for Health IT will temporarily take on top leadership positions next month as the Department of Health and Human Services continues its efforts to permanently fill the positions.
See Also: OnDemand | Healthcare's Security Investment Dilemma
Meanwhile, Joy Pritts will continue to serve as the chief privacy officer.
Farzad Mostashari, M.D., who heads ONC, announced in August that he is stepping down after more than two years in the leadership position. His last day is Oct. 4. David Muntz, ONC principal deputy, announced his plans to leave the agency on Oct. 4 in an e-mail to staff this week.
Jacob Reider, M.D. will serve as acting national coordinator until the post is permanently filled, Mostashari revealed in an e-mail to his staff. Reider had been serving as ONC's chief medical officer and previously was an ONC senior policy adviser. Reider's biography on ONC's site notes that he is "a family physician with 20 years of experience in health information technology and special interest in clinical innovation, user experience and clinical decision support."
Before joining ONC about two years ago, Reider was chief medical informatics officer at Allscripts, an electronic health records vendor.
Lisa Lewis will serve as acting principal deputy national coordinator. She had been ONC's deputy national coordinator for operations. Earlier, Lewis served three years as ONC's chief grants management officer. Before joining the office, she was director of the grants management division within the Federal Emergency Management Agency's grant program.
ONC, a unit of HHS, coordinates nationwide efforts to implement health IT, especially EHRs, as well as the electronic exchange of health information. It takes a lead role in developing guidelines for programs under the HITECH Act, including the EHR incentive program, often called the "meaningful use" program.
Muntz had been seen by some observers as a possible contender to replace Mostashari in the top ONC spot. In his e-mail to ONC staff, Muntz wrote, "I look forward to continuing to support HHS' vision of achieving interoperability and better engaging patients from the private sector."
Before joining ONC in January 2012, Muntz was CIO for Baylor Health Care System in Texas.
Neither Mostashari nor Muntz have publicly disclosed plans for what they'll do after leaving ONC, an ONC spokesman says.