Security Awareness Programs & Computer-based Training
On-the-Job Cybersecurity Training
Growing Ones Own Pool of IT Security Experts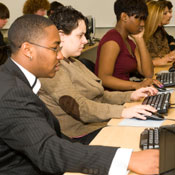 As other organizations clamor for cyber talent and hunt for qualified information security professionals, government consultancy Booz Allen Hamilton is growing its own talent pool of trained cybersecurity professionals.

The company has partnered with the University of Maryland University College to provide graduate-level cybersecurity training to its consultancy's workforce.

The partnership allows Booz Allen Hamilton employees to complete courses and earn a graduate certificate in one of three tracks: Foundations of Cybersecurity, Cybersecurity Policy and Cybersecurity Technology. All course credits earned can be applied to the school's full Master of Science in Cybersecurity or Master of Science in Cybersecurity Policy.

"We need to be cyber savvy if we are going to participate in cybersecurity," says Ed Kanerva, vice president at Booz Allen Hamilton. "We cannot hire folks if they are not out there, so instead we train them to be cyber experts."

The three program tracks are targeted to meet cyber job competencies and curriculum study for employees who are career changers, as well as those who have IT experience already and are serving in the workforce in a managerial or leadership position. This program is open to all level of employees within the firm -- from engineers and forensic analysts to cybersecurity practitioners, information assurance leaders and even senior management. Further, employees can use the consultancy's tuition reimbursement program to fund their enrollment in any of the three graduate certificate programs.
Cybersecurity Pro's Perspective
"I like the opportunity to work with other Booz Allen students who are on very different projects," says Nicole Debruin, an associate with Booz Allen Hamilton who enrolled in the program last October. "This serves as a great networking and learning tool for those of us with a common interest in cybersecurity, but with each of us bringing our own project experience to the class."

At an associate level, employees such as Debruin typically are put into cybersecurity consulting services to Booz Allen Hamilton's government and commercial clients and as such find this education helpful in better understanding of cyber policies, privacy laws and the strategic IT security needs of their clients based on people and business processes.

Over the last three years, the company has invested $15 million in skill enhancement on cybersecurity training and education for its employees. Booz Allen Hamilton always had an internal program geared toward specific boot camp training and certification programs such as the Certified Information System Security Professional or specialized vendor training for its employees.

However, firm leaders wanted something more serious to address the needs of the company's clients and the nation in negotiating the rapidly changing field of cyber warfare and combating cyber crime.

"Our strategic alliance leverages UMUC's cutting-edge, web-based learning technology through its highly regarded graduate degree programs in cybersecurity," says Kanerva. "These are -- no kidding -- grad courses."

Professionals have to work hard to earn these credits and certificates. Also, the online courses offered by UMUC provide the firm's staff a time-efficient and cost-effective opportunity to earn a certificate in an accredited program.
Return on Investment
For Booz Allen Hamilton, the return on investment comes in a variety of areas, says Kanerva. The returns include:
Meeting client needs and government requirements for technically certified staff;
Positioning the firm as a thought leader;
Enhancing the firm's ability to recruit, train, and retain a top tier work force steeped in cyber skills.
So far 100 employees are enrolled, and the difference in contribution is remarkable, says Kanerva. He finds a more holistic shift in the awareness level of employees undergoing the training at UMUC.
"They are now more aware of what cybersecurity really is and how it impacts our business."