Obama Names New Federal Chief Technology Officer
HHS CTO Todd Park Replaces Aneesh Chopra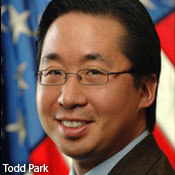 President Obama tapped as the federal government's chief technology officer Todd Park, who had been serving as the CTO at the Department of Health and Human Services.

Park replaces Aneesh Chopra, the government's first CTO, who resigned last month [see Aneesh Chopra Resigns as Federal CTO]. Chopra also had been serving as the associate director of technology in the White House Office of Science and Technology Policy, a position Park will temporarily fill until a permanent replacement is found. Both jobs report to Presidential Science Adviser John Holdren, who is director of the Office of Science and Technology Policy.

See Also: Live Webinar | The Role of Passwords in the Hybrid Workforce

Hired as the HHS's entrepreneur-in-residence, Park helped the department harness the power of data, technology and innovation to improve the health of all Americans, according to a White House statement.

"Todd Park has demonstrated a remarkable talent for enlisting innovative technologies to modernize government, reduce waste, and make government information more accessible to the public," Obama said in announcing his appointment, which does not require Senate confirmation. "In his new position, he will bring those skills to the entire federal enterprise, ensuring that government will serve all Americans fairly, effectively and efficiently."

Though the federal chief technology officer's primary focus is to identify ways to exploit information technology to make the government run more efficiently, the CTO collaborates with others in the administration to make sure technology the government employs is secure.

Obama created the federal CTO position on his first day in office, acknowledging that corporate leaders have long recognized the value of having an individual responsible for ensuring that technology is used effectively to gain operational efficiencies and ensure internal coordination and communication. The federal CTO is responsible to ensure the adoption of innovative technologies to support administration priorities, including job creation, broader access to affordable health care, enhanced energy efficiency, a more open government and national and homeland security.

Park led the execution of an array of initiatives at HHS, including the creation of HealthCare.gov, the first website to provide consumers with a comprehensive inventory of public and private health insurance plans available across the nation by zip code in a single tool; the development and launch of the Health Data Initiative, which is making a massive amount of information downloadable by the public and third-party apps developers via Health.Data.gov; and HHSinnovates, a program that identifies and recognizes innovators across the department who have improved department operations.

In 1997, Park co-founded Athenahealth, a health information technology company. Earlier, Park served as a management consultant with Booz Allen & Hamilton, focusing on healthcare strategy, technology and operations. He also served as a senior fellow at the Center for American Progress, where he focused on health IT and health reform policy, and as senior healthcare adviser to Ashoka, a global incubator of social entrepreneurs, where he helped start a venture to bring affordable telehealth, drugs, diagnostics and clean water to rural India.

Park graduated magna cum laude and Phi Beta Kappa from Harvard College with a bachelor of arts degree in economics.