News Analysis: Obama's Deficit Plan and IT Security
Will President's Program Boost Information Security Employment?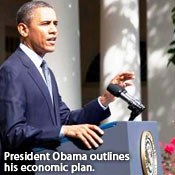 President Obama's job-creation/deficit cutting package, unveiled Monday, should have a negligible impact on the hiring of IT security personnel or how Congress appropriates money to secure its and the nation's IT infrastructure.

The president claims his plan would cut the federal deficit by more than $4 trillion over the next decade by limiting government spending and reconfiguring the tax code and raising taxes, including $1.5 trillion targeted at the wealthy.

But, despite the needs of financially strapped local and state governments, the jobs part of the president's plan couldn't do much for IT security employment. Simply, there aren't sufficiently trained people with the right expertise to do the IT security work now needed in government and the private sector.

As evidence, take a look at the government's employment numbers for information security analysts, where the Bureau of Labor Statistics lumps together most of those working in the infosec field. For the first half of 2011 - the latest figures available - IT security has had an unemployment rate of zero. You read that right. Every person in the United States who considers himself (the field is overwhelmingly male) an IT security professional has a job, at least according to the government numbers (see Infosec Joblessness Remains Steady, at 0%).

The White House's job stimulus (Obama doesn't call it that, though) plan is aimed at getting jobs for those out of work; that's not a problem for IT security pros.

Besides, the percentage of IT security pros in the United States amounts to a miniscule 0.0024 percent of the overall American workforce.

As to future spending cuts to reign in on the federal deficit, it's hard to tell today how IT security would be affected. IT security is touted by the Obama administration as part of national security. And, as information technology in all of its forms becomes more embedded in how our nation, economy and society functions, it's hard to imagine that massive IT security budgets cuts, at least among federal agencies, will take place. It's Congress' choice, and as IT security is often linked with the national defense, and the military in the past decade has been exempt from any major cuts, a sea-change in attitude toward such funding would have to occur for cybersecurity spending to be diminished.

Besides, examining the impact of the president's plan, as presented, is an academic exercise. No one truly expects Congress to enact it.