Mailing Error Causes Breach
TennCare offers enrollees credit monitoring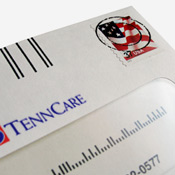 TennCare, Tennessee's Medicaid program, recently sent letters with personal information on about 3,900 enrollees to the wrong addresses, state officials confirmed.

Included in the mailings were name, date of birth and Social Security number. The error was the result of a modification to the system that pulls addresses into an electronic file for TennCare. An error caused by the system modification corrupted the file, TennCare officials said.

"Fortunately, we noticed the problem early and stopped additional mailings," said TennCare Director Darin Gordon. "We worked closely with other state agencies to correct the information in the system, investigate how the error occurred and determine how many enrollees were affected. We also have put in place protocols to help ensure an error doesn't occur again."

Future file transfers, for example, will undergo "more intense analysis and testing" to ensure that accurate data is sent, officials said.

So far, there is no evidence that the information has been misused, according to the Medicaid program. TennCare, however, is providing all affected enrollees one year of free identity theft safeguards from Kroll Inc., including credit monitoring, identity theft consultation and restoration services.

TennCare is mailing notices to those affected and has a dedicated call center to field questions. It's urging those who received the mailings in error to leave the letter or card in its unopened envelope and write "return to sender" on it and drop it in the mail.