Events , RSA Conference , RSA Conference Videos
London Olympics: Security Lessons
Jason Cook Details Lessons Learned From Massive Event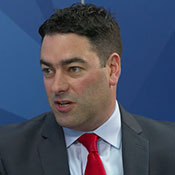 By all accounts, the 2012 London Olympics were a resounding IT and information security success. Connectivity remained high, there were no broadcast or transmission glitches, and no sensitive data was breached or leaked. That was despite attackers actively attempting to disrupt and compromise the vast infrastructure that was created to support the Olympics, says Jason Cook, vice president of security for BT Americas.
See Also: Insights on Financial Supply Chain Compromise
Cook was part of the core team that helped design, implement and manage the massive IT and information security undertaking. And he says the success of the 2012 London Olympics IT endeavor was due not just to good planning, but also an unprecedented level of coordination and collaboration between all of the service providers involved, including BT, who collectively maintained a laser focus on the end result: making the Olympics a success.
As the complexity of information security systems - and demand for information sharing - continues to increase, he argues that this type of cross-vendor collaboration must become the industry norm. In an interview recorded at RSA Conference 2015, Cook also discusses:
How businesses can best identify their top information security pain points, to help best allocate their resources;
BT's experience of supporting the 2012 London Olympics, and what lessons the organization learned from the experience;
The need to keep ensuring that enterprise information security programs do not solely focus on technology, but rather the proper combination of people, processes and technology.
Cook leads BT Global Services' information security efforts across North America, Latin America and South America, working both as the organization's chief architect as well as its chief technical officer, as well as taking the security lead for the consumer packaged goods and global pharma and chemical industry verticals. A 20-year veteran of British Telecom, Cook previously served as the BT's IT director.
Additional Summit Insight:
Hear from more industry influencers, earn CPE credits, and network with leaders of technology at our global events. Learn more at our Fraud & Breach Prevention Events site.