Advanced SOC Operations / CSOC , Endpoint Security , Fraud Management & Cybercrime
Would You Re-Hire Your IPS Today?
Kurt Bertone of Fidelis Cybersecurity on What's Required in a Next-Gen Solution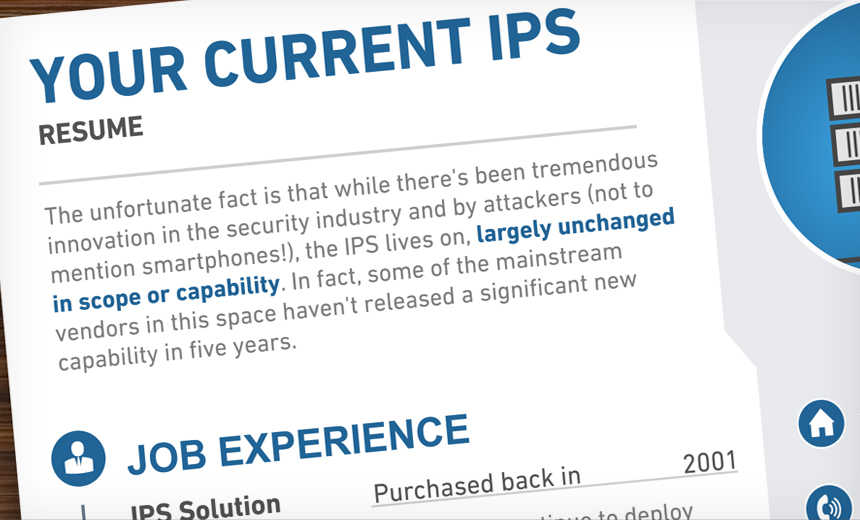 The threat landscape certainly has changed in recent years. But can you say the same about the traditional intrusion prevention system? Kurt Bertone, a security expert with more than two decades in the business, lays out what to look for in a next-gen IPS.
"The biggest problem with IPSs today is that organizations are trying to fight today's threats with yesterday's solutions," says Bertone, who serves as CTO of Fidelis Cybersecurity
"IPS [solutions] have been around for a long time, and they were designed for the attacks that were prevalent at that time," Bertone says. "These were attacks that were visible in the packet stream - often visible within a single packet. And the problem is: Today the vast majority of threats that traverse networks are not visible in the packet stream. They're buried under multiple, superimposed layers of encapsulation, encoding, embedding, obfuscation ..."
"The attacks that really matter today don't break down the front door," Bertone adds. "They're invited into the organization by humans, and what they really attack is the carbon layer, as opposed to the server layer."
In an interview about what to look for in a next-gen IPS, Bertone discusses:
Why traditional IPS solutions are ineffective today;
Key qualities of next-gen IPS;
How the IPS market is likely to evolve further in 2017.
Fidelis Cybersecurity provides next generation intrusion prevention that help governments, major banks, healthcare providers, pharmaceutical companies and technology providers and other enterprises around the world to continuously defend against advanced attackers and prevent data theft at every stage of the attack lifecycle. Contact Fidelis to learn more.