Analytics , Artificial Intelligence & Machine Learning , Big Data Security Analytics
Health Data Security: The Most Promising Technologies
Ron Mehring, CISO at Texas Health Resources, and Axel Wirth of Symantec Pinpoint Key Tech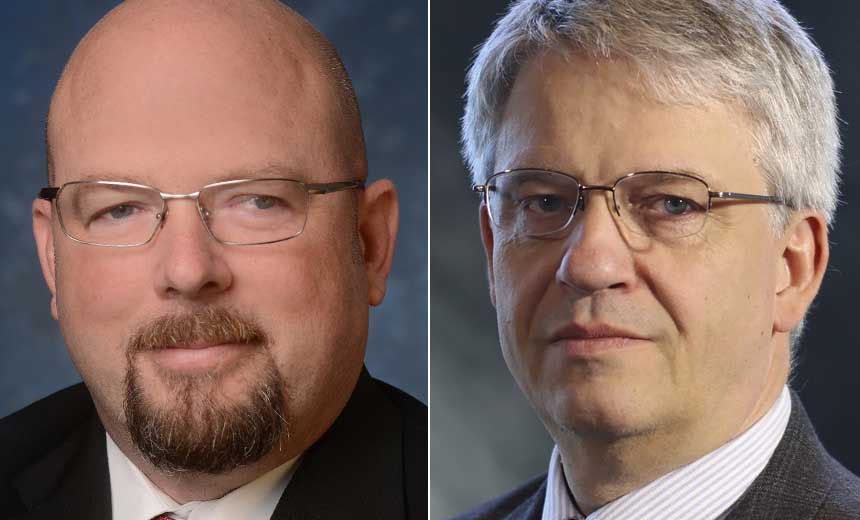 Several technologies playing increasingly critical roles in mitigating the potential impact of security incidents in healthcare, say Ron Mehring, CISO at Texas Health Resources, and Axel Wirth of Symantec.
In an interview after their joint presentation at a preconference cybersecurity forum Monday at HIMSS19 in Orlando, Florida, Mehring notes: "The biggest technology stacks we've been implementing are around optimizing our analytics, which includes behavioral analytics, event management platforms [that are] tightly integrated into the process - making sure that people, process and technology are fully implemented in the response strategy. ...
"A lot of the time we focus on the detection and the reaction phases - the containment and eradication phases, which are extremely important. But we forget about all the preparation phase items, which is the inventory of items and all the other [steps] that require a deep analytical approach but need to be well-integrated into all the other phases so that quick resolution can happen in a very complex healthcare system."
Other Technologies
In addition to analytics, artificial intelligence and machine learning offer great potential for helping battle security breaches due to the volume of attacks, their sophistication and their changing nature, Wirth says in the same interview.
"Healthcare, more so than other industries, is realizing that incident response is really a multidisciplinary approach," he says. "It not only affects IT and IT security, but it also affects the business, care delivery and clinical aspects."
In the interview (see audio link below photos), Mehring and Wirth also discuss:
The increasing threat of nation-state and other cyberattacks on the healthcare sector;
How automation and orchestration can improve incident detection and response;
Top incident detection and response challenges in healthcare.
Mehring is CISO at Texas Health Resources, one of the largest faith-based, nonprofit healthcare delivery systems in the U.S. His career in technology started in the U.S. Marine Corps. After 21 years of military service, Mehring retired and joined the Department of Veteran Affairs, where he led compliance assessment teams within the newly formed oversight and compliance group. He also served as the Department of Veterans Affairs deputy director for network and security operations.
Wirth, in his role as a solutions architect, provides strategic vision and technical leadership within Symantec's healthcare vertical, serving in a consultative role to healthcare providers, industry partners and health technology professionals. Previously, Wirth held leadership positions with Siemens Medical, Analogic Corp, Mitra Inc. and Agfa Healthcare.