Governance & Risk Management , Healthcare Information Exchange (HIE) , Privacy
Framework Aims to Improve Patient Data Matching
Leaders Fom CMMI Institute - Which Created Framework With ONC - Explain How It Works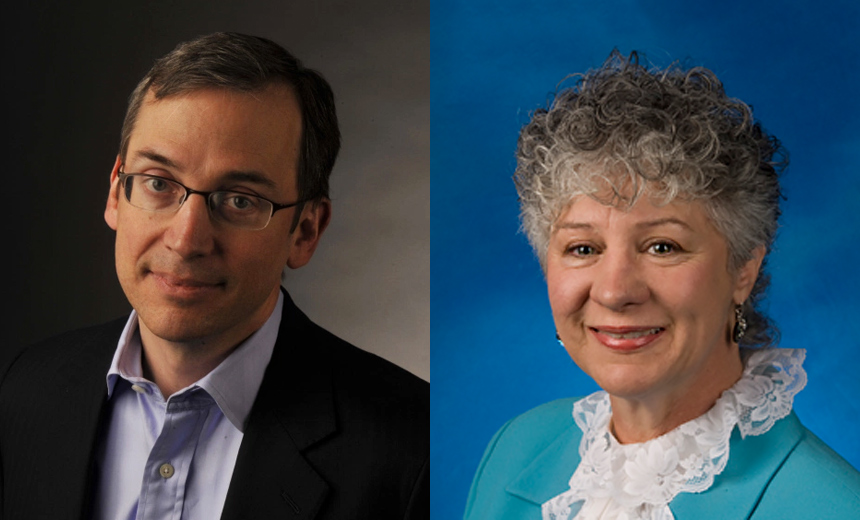 A new framework aims to improve patient safety and data integrity by helping healthcare entities to more consistently and accurately match patients with all their information, Kirk Botula and Melanie Mecca of the CMMI Institute, explain. The organization developed the Patient Demographic Data Quality framework with federal regulators.
The recently released framework to improve patient data matching is based on CMMI's data management maturity model, "which is a framework of best practices around data management," Botula, CEO of CMMI explains, along with Mecca, in an interview with Information Security Media Group.
Difficult Challenge
The quest for healthcare sector organizations to accurately match patients with all their health data is more difficult than it sounds, given that so many organizations can maintain partial records of a patient and potentially exchange them. Mistakes and gaps in correctly matching patients with all their health records can lead to patient safety issues as well as privacy breaches and other problems.
The challenge is complicated by a Congressional move nearly 20 years ago to ban the Department of Health and Human Services from using federal funds to develop a unique patient identifier for individuals, which potentially might have helped with patient data matching.
Absent a national system for identifying patients, HHS' Office of the National Coordinator for Health recently worked with the CMMI Institute to develop a new Patient Demographic Data Quality framework that aims to improve patient safety and potentially privacy by helping healthcare organizations to accurately and consistently match patient data internally as well as between organizations.
End Goals
"The end goal is improving the accuracy of and completeness of the patient records and minimizing or hopefully eliminating duplicative patient records," says Mecca, CMMI's director of data management product and services and an author of the framework.
"The primary goal of writing this document is improving patient safety," she says. But the framework also has "useful effects downstream" on health data analytics, interoperable healthcare information exchange, and the integrity of claims billing claims to payers such as insurers and the Centers for Medicare and Medicaid Services, as well as to patients, she notes. "It has many tendrils - some are more direct and some are less direct."
The framework is not software, she stresses. "It is a system of interrogating participants around the healthcare organization, so that they can share information and determine for instance, where in the patient care lifecycle the patient's demographic information is either created or modified," she says.
"As ONC told us, [patient demographic data] can be touched at any phase," she says. "It may start out that [healthcare organization's] registration [department] has all the information to uniquely identify a patient - and there may be additions or changes like ... address, phone number or other demographic data that happen later down the line causing inaccuracies in the records," Mecca explains.
"These are management practices that can be done by all healthcare area participants. This affects the accuracy of the patient matching algorithms. And patient record matching algorithms are not consistent across the industry."
While HHS and has encouraged health information exchange organizations, electronic health records vendors and others to use common critical identity attributes, these entities "do not have a standard set of data that they always collect. They have different mandatory data elements, so the algorithms are also different," she says. The framework "aims to improve the effectiveness of the matching algorithms used."
In the interview (see audio link below photos), Botula and Mecca also discuss:
How the new Patient Demographic Data Quality framework meshes with other frameworks, such as the National Institute of Standards and Technology's Cybersecurity Framework;
Plans by CMMI to roll out a cybersecurity-related framework in March;
How the Patient Demographic Data Quality framework could potentially complement fraud-busting efforts by healthcare sector entities.
Botula is CEO of the CMMI Institute, a subsidiary of ISACA Enterprises. The institute provides tools and support for organizations to benchmark their capabilities and build maturity by comparing their operations to best practices and identifying performance gaps. Prior to CMMI Institute, Botula served as president of Confluence, a global financial technology firm.
Mecca, CMMI Institute's director of data management products and services, has led the development of several efforts around the institute's data management maturity model. She has over 30 years of experience in tackling enterprise data challenges, including architecting and implementing data management programs, data strategies and enterprise data services.