Information Sharing , Training & Security Leadership
Bringing CIA Cybersecurity Experience to Congress
Ex-Spy Will Hurd, IT Technology Panel Chair, Discusses Priorities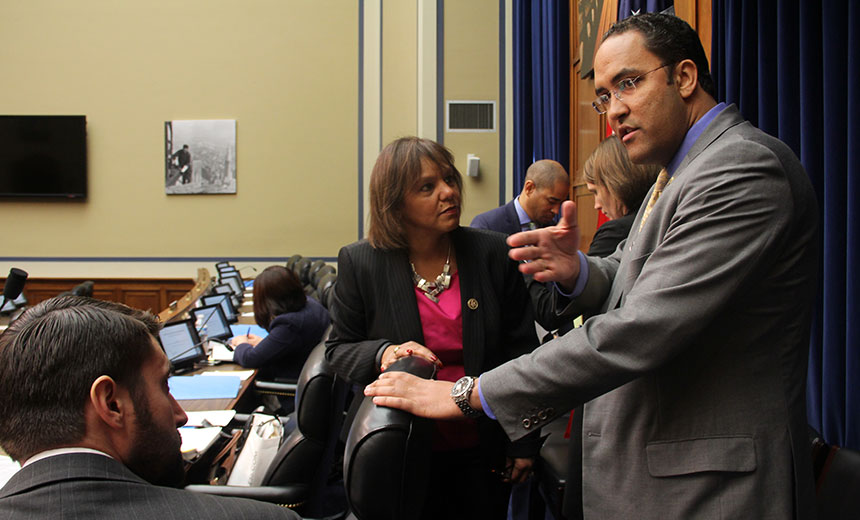 Former intelligence operative Will Hurd brings his CIA values, including his belief that sharing of threat information benefits the government and private sector, to his job as chairman of a House subcommittee with cybersecurity oversight.
"I look at my own experience in the intelligence community," Hurd says in an interview with Information Security Media Group. "You give the right information to the right people at the right time - you're able to do a lot of good things."
A Republican, Hurd is a rarity in Congress: a freshman who chairs a panel, in his case, the House Oversight and Government Reform Subcommittee on Information Technology. Hurd won that plumb assignment because of his IT security background. Before his 2014 election in the district that stretches 800 miles along the Mexican border from San Antonio to El Paso, he served as a partner and senior adviser with the cybersecurity firm FusionX.
In the interview (link to audio below photo), Hurd:
Discusses the importance of businesses being proactive in their participation in a new federal government cyberthreat sharing initiative (see DHS Issues Guidance on How to Share Cyberthreat Data);
Addresses the cooperation between Congress and the White House on cybersecurity initiatives, including the creation of a federal CISO post (see 10 Facts About New Federal CISO Position); and
Explains why his constituents deem cybersecurity as one of the nation's top priorities.
Hurd also spoke out against weakening encryption protections vendors such as Apple provide their customers (see House IT Panel Chairman: Don't Weaken Encryption).
Rep. Will Hurd shares his view on the federal government telling private companies how they should tailor their products .
The first black Republican elected to Congress from Texas, Hurd worked for the CIA for nine years, stationed in Washington. He also served as an undercover operations officer in Afghanistan, Pakistan and India. After his CIA service, Hurd worked for the strategic advisory firm Crumpton Group and FusionX.