Access Management , Blockchain & Cryptocurrency , Identity & Access Management
Blockchain in Healthcare: Testing an ID App
NH-ISAC's Kurt Lieber and Trusted Key's Prakash Sundaresan Describe Early Efforts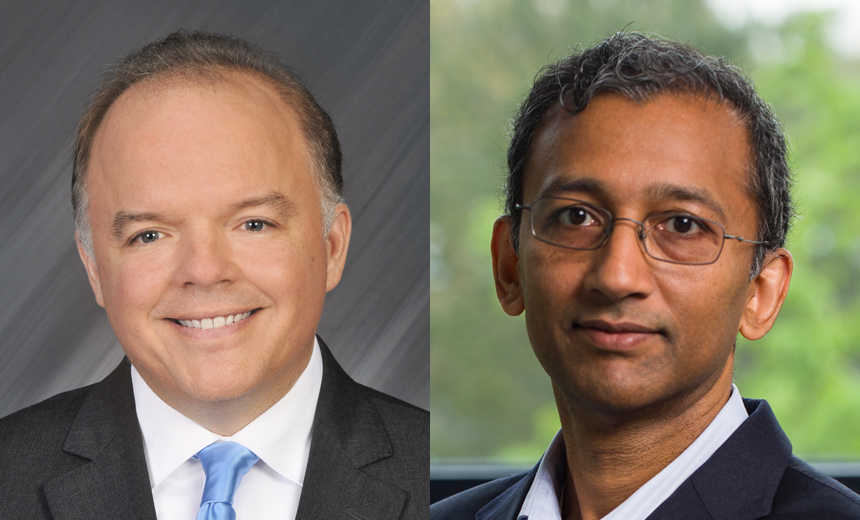 How might blockchain technology improve digital identity proofing in the healthcare sector? The National Health Information Sharing and Analysis Center and security vendor Trusted Key are testing that out with a proof-of-concept application.
The aim for the HealthID application, which in the early stages of development, is the creation of a secure, portable digital identity that can be re-used with blockchain validation, says NH-ISAC's Kurt Lieber.
"Instead of having to have one identity with your pharmacist, one identity with your doctor, and one identity with your insurance company, this would give you one identity that you can port and use with all of those different companies," Lieber tells Information Security Media Group in a joint interview with Trusted Key's Prakash Sundaresan.
"The users are really anyone in the healthcare ecosystem," he says. "Patients are one example, but also doctors and nurses that have relationships with different hospital systems or anyone who needs to log in or interface with different healthcare applications."
Blockchain's Role
Blockchain is important to the architecture of the ID application because NH-ISAC has members from many facets of the healthcare sector, including insurers, pharmacies and healthcare provider organizations, that could potentially use the app, Sundaresan says.
"For them to all work together on a single identity solution for the user, blockchain provides an immutable ledger where user identities can be recorded," he says. "So when the user tries to establish an account or log in to any provider, that provider is able to verify on the blockchain that that identity is valid."
The blockchain would serve as a common registry that all parties could rely on to authenticate the users, Sundaresan says. Trusted Key does not put any personally identifiable information on the blockchain, he adds.
In the interview, Lieber and Sundaresan also discuss:
Why NH-ISAC is working with Trusted Key to develop the HealthID app, which is still in the proof-of-concept stage;
Why interoperability will be important for the HealthID application to work with healthcare sector organizations' legacy applications;
The security issues the blockchain-based application concept could potentially help address.
Lieber is chairman of NH-ISAC's identity and authentication working group and is vice president and CISO at insurer Aetna. He has more than 20 years of IT and info security experience across multiple industries including healthcare, retail and financial services. He was formerly with Kaiser Permanente.
Sundaresan is CTO and co-founder of Trusted Key, which on May 2 also announced it raised $3 million as part of a seed funding round led by Founders Co-Op, an early-stage venture fund, with participation from Pithia, Inc., the venture capital company of The RChain Cooperative. Sundaresan previously served as CTO of Microsoft Asia-Pacific research and development.