Cloud Security , Next-Generation Technologies & Secure Development
IBM to Buy Red Hat for $34 Billion
Big Blue Moves to Acquire Enterprise Provider of Linux Open Source Software
In a bid to gain a bigger bite of the cloud marketplace, "Big Blue" hopes to add a dash of red.
See Also: Live Webinar | Breaking Down Security Challenges so Your Day Doesn't Start at 3pm
IBM on Sunday announced that it plans to buy enterprise open source software provider Red Hat for $33.4 billion, including debt.
The move represents not just the largest acquisition IBM has ever made, but it also would be the third-largest U.S. technology acquisition in history.
"The acquisition of Red Hat is a game changer. It changes everything about the cloud market," says Ginni Rometty, IBM's chairman and CEO. "IBM will become the world's No. 1 hybrid cloud provider, offering companies the only open cloud solution that will unlock the full value of the cloud for their businesses."
IBM offered Red Hat shareholders $190 per share. That bid represents a 63 percent premium above Friday's closing Red Hat share price of $116.
It's unclear what types of regulatory hurdles the deal might need to clear before it gets approved.
Red Hat has built its business out of offering support for enterprises that deploy open source Linux operating systems, including Red Hat Enterprise Linux.
"Joining forces with IBM will provide us with a greater level of scale, resources and capabilities to accelerate the impact of open source as the basis for digital transformation and bring Red Hat to an even wider audience - all while preserving our unique culture and unwavering commitment to open source innovation," says Jim Whitehurst, who's led Red Hat as its president and CEO since 2007, after leaving Delta Airlines.
The company in February reported full-year revenue of $2.9 billion, up 21 percent from the prior year. In January, in a hybrid cloud move, Red Hat snapped up containerization firm CoreOS for $250 million, saying it would help it to provide more automated Linux container platform stacks.
IBM's Revenue Growth Problem
IBM has said it's focusing now on four areas: social, mobile, analytics and cloud. But it has a mixed track record.
On Oct. 16, IBM reported 2017 revenue of $79 billion, which was a decrease of 2 percent from the previous year, as well as weaker-than-expected quarterly revenue. That followed three quarters of revenue growth, which had reversed a five-year revenue decline.
"IBM still has a revenue growth problem," analysts at market researcher Stifel wrote earlier this month, following IBM's earnings announcement.
Rometty, who's served as IBM's CEO since 2012, says that Red Hat has revenue growth and free cash flow, unlike many of its peers. "This acquisition we are clearly doing for growth synergies. This is not about cost synergies at all," she tells Reuters.
Red Hat would become part of IBM's Hybrid Cloud unit.
"This is a game changer for IBM and will change the cloud market," says Arvind Krishna, senior vice president for IBM's Hybrid Cloud unit. "We are two best-in-class hybrid cloud providers, and we will help companies move beyond the efficiency economics of their initial cloud deployments, to the next chapter of the cloud, which is all about shifting business applications to the cloud."
IBM says it plans to build out Red Hat's existing partnerships, including with such major cloud providers as Amazon Web Services, Microsoft Azure, Google Cloud and Alibaba.
Define: What Is IBM?
The bid for Red Hat sees IBM attempting to continue its evolution away from focusing on low-end hardware, looking much more to software and IT services to drive profits. The company has been especially focusing on cloud computing, big data analytics as well as the so-called "digital front office," which allows customers and users to do everything online, according to market researcher Jeffries.
The planned Red Hat acquisition comes as industry watchers have been questioning the effectiveness of the company's Watson artificial intelligence program, on which the company had previously staked significant revenue growth. Indeed, IBM has positioned Watson as a way to help with everything from security operations center challenges to cancer treatments. But many commentators say the AI program has overpromised and under-delivered.
One year ago, James Kisner, an equity analyst at Jefferies, warned that Watson wasn't performing well. "Our analysis suggests that the returns on IBM's investments aren't likely to be above the cost of capital," he wrote in a July 2017 research analysis.
On the cloud front, however, IBM faces formidable competition from Amazon, Google and Microsoft.
Peter Hall of Intelligent Business Research Services, an Australian IT services firm, calls the acquisition "a huge bet by IBM," and possibly the last major deal to be done on Rometty's watch. "IBM shareholders will be wondering why such a high premium is being offered."
Rometty has said that she plans to stay put. "I'm still young and I'm not going anywhere," she told CNBC.
But her continued tenure will no doubt be based in part on the success or failure of the planned acquisition.
Peace, Love, Linux
Many industry watchers, meanwhile, say they're not quite sure what to make of the planned acquisition.
"IBM seems to either be trying to buy their way back to relevance, in which case this was an odd move. Or this was supposed to happen during the 'Peace Love Linux' campaign, and the PO [purchase order] was finally approved,"" says James Turner, an adviser at Intelligent Business Research Services, via Twitter.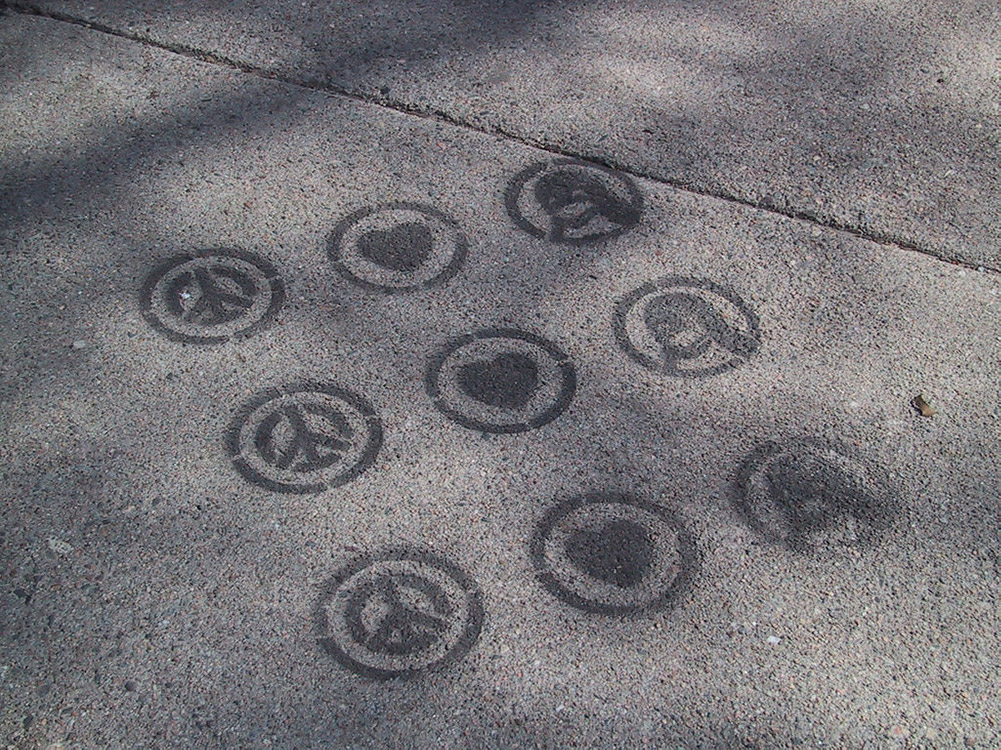 IBM's "Peace, Love, and Linux" advertising campaign - aka sidewalk graffiti - as seen on April 20, 2001, in Cambridge, Massachusetts (Photo: David Tames, via Flickr/CC)
"Peace, Love and Linux" was a 2001 guerilla advertising campaign commissioned with advertising giant Ogilvy and Mather by IBM in 2001 after it invested $1 billion in Linux open source software. But the campaign landed IBM in hot water with authorities in Chicago and San Francisco, owing to advertisers spray-painting on city sidewalks.
One take on the proposed deal is that IBM is "seeing Microsoft's hybrid cloud play working" and attempting to follow suit, says Matt Thomlinson, a former Microsoft vice president of security who's now CISO and senior vice president of Security engineering at gaming giant Electronic Arts, via Twitter.
If so, he says it will be difficult for IBM to take what Microsoft has done with Azure and replicate it with Linux. Microsoft is "able to leverage Active Directory account provisioning, Windows client identity and management, Outlook as a rich Exchange client, etc.," all of which "made it easy and additive for enterprise to adopt cloud."
Strategic Move
But some industry analysts note that the deal makes sense, particularly because it will give IBM sales inroads with developers on the Linux frontlines, who are building the latest software, hardware and services.
"I think this is a very good and strategic move for IBM," Crawford Del Prete, chief operating officer with market researcher International Data Corp., tells The Wall Street Journal. "Red Hat has done a fantastic job over the last few years becoming relevant to developers and helping developers not only with Linux, but also with the tools on top of Linux."