How to Manage Gen Y
New Generation Brings New Skills, Perspective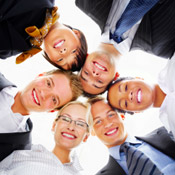 Brian Maxwell is proud member of what the sociologists call Gen Y - a person born in the decade beginning in the early 1980s and ending in the early '90s. An up-and-coming information security professional, Maxwell is employed by Booz Allen Hamilton as a network engineer.

But security isn't just a current job for Maxwell. It's a career for which he has long prepared.

"I chose information assurance as my major in school and got extensively trained to do this," Maxwell says. "Security is what I know, and my goal is to get into a leadership position someday and be the best in what I do."

Indeed, Maxwell is representative of his generation's ambition and impact upon the current marketplace. With baby boomers reaching the retirement stage, and the first throngs of Gen ' entering the information security workplace, the profession is evolving - and gaining new definition.

"In the past, we did what we needed to do; work was work," says Mark Lobel, principal with PricewaterhouseCoopers. "Today, the younger generation is looking for the right fit and work that engages them."
Gen Y in Demand
Members of Gen Y are in high demand in both the private and public sectors. According to the 2010 State of Cybersecurity Survey from the Federal CISO's Perspective by the International Information Systems Security Certification Consortium Inc., 44 percent of government leaders and chief information security officers, are turning to fresh graduates to fill their hiring needs.

James Gattuso, director of recruitment and staffing for CSC, a defense contractor, plans to hire in the range of 1,500 to 2,000 security professionals within the next two years. "A significant number from this will be fresh graduates who are adept at tackling the advanced cyber threats we face today," he says.

As in Maxwell's case, Gen Y professionals are hired extensively to fill positions such as network security engineers, application security and software programmers, data analysis and protection analysts.

Lobel recently added several young security recruits for his team at PwC and likes the career focus, energy and awareness the younger generation is bringing into the profession.

"It's no longer just cranking the hours and leaving the door by 5:00 PM," Lobel says. "It's all about passion in work and embracing that."
The Plus Side
According to experts, Gen Y members bring their tech-savvy approach to the job -- their need for open communication and fresh perspectives within the security profession.

"The younger generations today are filling the need to understand why something is important in security," says veteran security leader Steve Katz, widely regarded as the world's first CISO. "They are addressing the 'why's,' which is a good learning point for all of us."

The biggest change in security since Katz started out is that security is taught today - not just experienced on the job. "For most of us, security was alien and a new career opportunity to venture into." Today, the current generation has education, a defined career path, more awareness and increased motivation to understand why things are important in security. "They are trained to think that security is more of a risk management issue and are better prepared to handle the future," Katz says.

Steve Elefant, CIO of Heartland Payment Systems, currently heads a team of about 75 members ranging between 20-60 years. "There is a new level of maturity and a strong will to get things done the right way in the younger workforce," he says. Gen Y employees bring positive energy and the need for improved communication within the team. "I often find myself addressing questions related to the how's and why's of something getting done," Elefant says. "The Gen Y's just make you learn."
The Down Side
Although the younger generation is highly educated and trained in security, retaining these individuals gets difficult, as they tend to switch jobs very fast, says Elefant.

"We had careers with the same company for 40-50 years," he says. "Today the norm is 2-5 years."

According to a recent survey of 1,400 U.S. professionals conducted by Robert Half Technology on Generational Attitudes in a Transitioning Economy, the most common post-recession career plan for Gen Y'ers is looking for a new job.

"The key going forward will be for companies to focus in retaining their IT security professionals and providing defined career paths for them," says Ellis Blevins, division director of Robert Half Technology office (Denver Branch).

Another common issue with the new generation is its understanding of privacy -- or lack of it. "They just cannot live without their smart phones, Wiki's or IM's," says Lobel. "We now have a company policy to ensure they are not sharing client or corporate specific information on their social networks."
Bridging the Generation Gap
To ensure smooth relations between disparate generations on his staff, Elefant will often host friendly luncheons -- just to nudge the newer generation to get out from their chairs and establish more of a personal connection with colleagues.

Leaders agree that a big component of being on the same plane is continuous education and training of employees, including Gen Y.

"If we want them to respect and protect our privacy, we ought to tell them and show them how," says Katz.

Further, every organization needs to set certain expectations and goals and align them with individual goals, says Lobel. For instance at PwC, every employee has to meet a certain level of client hours a week. If this goal is not met, it's "just trouble for the person," says Lobel. "Again, because goals are set, it makes it easier for a Gen Y to manage an older employee because rules are rules no matter the age."

Lobel's advice for managing the younger workforce is to set clear goals and policies surrounding privacy and social media usage. "This way they know what directions to follow and consequences to face in absence of it."

In addition, Elefant involves the younger generation in his business meetings to help them understand and learn the business implications of security. "It ultimately comes down to increasing the communication lines, which helps everyone get smarter."

For Maxwell at Booz Allen, this all is just the beginning. He loves his work, and he is proud of his generation and the impact it can have on the profession.

"Our knowledge and skill is specific to cybersecurity," Maxwell says. "That's why companies are investing in us."