HIE Collaborative Effort Restructured
Group Working Toward National Exchange of Information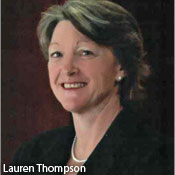 A new not-for-profit organization is taking over coordination of an ongoing collaborative effort designed to help facilitate nationwide secure health information exchange.
See Also: Live Webinar | Improve Cloud Threat Detection and Response using the MITRE ATT&CK Framework
The Office of National Coordinator for Health IT, a unit of the Department of Health and Human Services, had been coordinating the group, which was known as the Nationwide Health Information Network Exchange. Now, a new independent entity, known as Healtheway, will lead the effort, which has been renamed eHealth Exchange, says Lauren Thompson, ONC's director of federal health architecture.
Healtheway's mission statement notes the new organization is working to "expand trusted, secure and interoperable exchange of health information across the nation by fostering cross-industry collaboration and by providing shared governance and necessary shared service to public and private organizations who wish to interconnect as a network of networks."
In its announcement, ONC said eHealth Exchange "is composed of federal agencies and private partners that have implemented nationwide health information network standards and services and executed the Data Use and Reciprocal Support Agreement, a legal agreement, in order to securely exchange electronic health information."
Among the 35 participants in eHealth Exchange are government and private-sector provider and payer organizations, including the Centers for Medicare and Medicaid Services, Kaiser Permanente and the Department of Veterans Affairs, as well as HIEs.
Participant are continuing to address interoperability issues and work on standards testing to help pave the way for eventual exchange of patient information nationwide.
'Rules Of Road' Are on Hold
In a separate development, ONC announced last month it was dropping its plans to prepare a Nationwide Health Information Network Governance Rule establishing voluntary "rules of the road" for secure, national health information exchange (see: HIE 'Rules of Road': What's Next?.
But Thompson says federal authorities eventually could reconsider HIE regulations. "Our position is that we want the industry to evolve and will revisit that in the future," she says.
NwHIN was not an actual network, but a set of policies, standards and services that enable the Internet to be used for secure and meaningful exchange of health information. The new EHealth Exchange group, formerly NwHIN Exchange, will continue to test-drive exchange standards.
But the HIT Standards Committee, which advises ONC, will continue to lead efforts to develop security, privacy and interoperability standards for HIEs, Thompson explains.