HHS Selects New Civil Rights Chief
Leon Rodriguez Succeeds Georgina Verdugo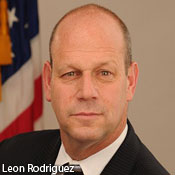 Leon Rodriguez, formerly chief of staff and deputy assistant attorney general for the Department of Justice Civil Rights Division, is the new director of the Department of Health and Human Services' Office for Civil Rights. The office enforces the HIPAA privacy and security rules and investigates major health information breaches.

Rodriguez succeeds Georgina Verdugo, who held the post for about two years. From May 2007 to January 2010, Rodriguez served as the county attorney for Montgomery County, Md. Before that, he served in private practice specializing in health law and was a federal and state prosecutor in several jurisdictions. For example, he prosecuted healthcare fraud cases as assistant U.S. attorney in Pittsburgh.

"Leon Rodriguez brings a strong record of integrity, leadership and judgment with his outstanding expertise as a state and federal prosecutor," HHS Secretary Kathleen Sebelius said in announcing the appointment.

In May, the HHS Office of the Inspector General issued a report calling for OCR to ramp up its HIPAA compliance review efforts to ensure adequate security controls are in place at hospitals (see: Watchdog Hits HHS on Records Security).