HHS Names Baitman CIO
Formerly CIO at Social Security Administration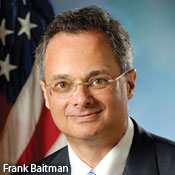 The Department of Health and Human Services has named Frank Baitman as its new CIO. He previously served as CIO at the Social Security Administration.
See Also: Live Webinar | Leveraging AI in Next Generation Cybersecurity
He replaces John Teeter, who held the post on an interim basis since last summer, when CIO Mike Carleton retired.
Baitman's most recent previous role was as a White House Entrepreneur-In-Residence on assignment at the Food and Drug Administration. Before that, he was CIO at the Social Security Administration. He co-chaired the Federal CIO Council's Accessibility Committee's efforts to improve services to Americans with disabilities.
While at IBM, he worked in the marketing group at IBM Research and as director of corporate strategy. He also has advised government agencies on policy matters and worked with the Department of Energy's labs developing a technical transfer program.
In another personnel move at HHS, Todd Park, chief technology officer, has left HHS to join the White House as federal CTO, succeeding Aneesh Chopra.