Governing Health Data Exchange
Sept. 28 Hearing a First Step Toward Creating a Rule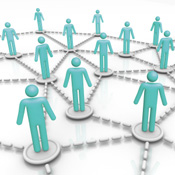 Enabling the national exchange of electronic health records will require a formal governance system to monitor whether the players are abiding by the same rules.

Early next year, federal regulators plan to issue a proposal for governance of organizations that use the National Health Information Network standards. A new NHIN governance workgroup, which met for the first time Sept. 3, plans to host a hearing Sept. 28 to quiz executives at health information exchanges that ultimately might share data with other HIEs across the nation. The workgroup also will review written comments from others regarding governance issues.

Information on the hearing, which also will be accessible via a webcast, will be available soon at the workgroup's website.

To help ensure that organizations exchanging data using the NHIN standards trust that the information will be kept private and secure, the workgroup will pinpoint specific areas that will need to be governed, says John Lumpkin, M.D., workgroup chair. He's senior vice president and director of the healthcare group at the Robert Wood Johnson Foundation.

"At a very high level, we'll define what the essential functions are and how they should be monitored," Lumpkin says.
A Fine Line
The toughest challenge, Lumpkin says, is "trying to achieve a light touch" when it comes to creating a governance system to ensure that those exchanging data all play by the same rules. "We need enough governance to create an environment in which national exchange can occur, but not so much governance that it stifles innovation," he says.

Early next year, the Department of Health and Human Services' Office of the National Coordinator for Health Information Technology will prepare a "notice of proposed rulemaking" on NHIN governance, taking into consideration the workgroup's recommendations. ONC will make a proposal for establishing one or more governance bodies, Lumpkin says.
Defining NHIN
NHIN, which will be renamed this fall to clarify its meaning, is not a national network. Rather, it's a set of standards, services and policies for promoting and facilitating secure exchange of health information on the Internet to improve health and healthcare.

The HITECH Act called for expanding data exchange at the regional, state and national levels. It provided grants to states to help fund statewide exchanges.

Right now, only government contractors and organizations that have received government grants can use the emerging NHIN standards in what's known as the NHIN Exchange project. Once the governance rule is enacted next year, the NHIN standards will be available for broader voluntary use, Lumpkin explains.

The ultimate goal of the upcoming governance rule, Lumpkin says, is "to make sure that the information to make a good decision on an individual's healthcare is available at the right time and the right place." Creating such a "shared decision-making model" through national data exchange requires creating "a feeling of trust" among those exchanging data built on adequate privacy and security precautions, he adds.

The governance workgroup plans to make its preliminary recommendations Oct. 20 and complete its final proposals Nov. 19. Once the HIT Policy Committee approves those recommendations, ONC will draft the proposed governance rule.