Fraud Prevention in Obama's New Plan
Healthcare reform plan spells out anti-fraud initiatives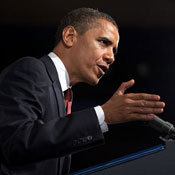 President Obama introduced a revamped healthcare reform plan Feb. 22 that includes numerous fraud prevention measures aimed at helping pay for reform.

The president portrays the plan as "bridging the gap" between earlier House and Senate bills. For example, it does not call for a government-based insurance option. The White House estimated the cost at $950 billion.

An 11-page outline of the proposal released by the White House spells out numerous anti-fraud measures, most of which were based on legislation already pending or the president's fiscal 2011 budget proposal. Among them are:
Establishing a system for using technology to provide real-time data analysis of claims and payments under public programs to identify and stop waste, fraud and abuse;


Authorizing the Centers for Medicare & Medicaid Services and the Internal Revenue Service to work collaboratively to determine which providers have seriously delinquent tax debt to help identify potentially fraudulent providers sooner. The data match will primarily target certain high-risk provider types in high-vulnerability areas.


Creating a Medicare and Medicaid sanctions database, overseen by the HHS Inspector General, providing a central storage location that law enforcement agencies can use to look up past sanctions against healthcare providers, suppliers and others; and


Expanding access to the Healthcare Integrity and Protection Data Bank to improve information sharing in anti-fraud efforts. The proposal would expand access to quality control and peer review organizations, among others.