Feds Seek Comments on HIE Governance
Panel Weighs Who Should Handle HIE Oversight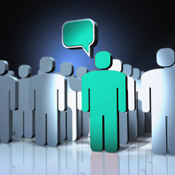 A panel advising federal regulators on how to govern health information exchanges that share electronic health records using national standards is seeking comments on whether an existing organization could handle the HIE oversight role.

The governance workgroup of the Health IT Policy Committee will accept comments through Nov. 3.

On Oct. 20, the workgroup updated the HIT Policy Committee on its ongoing efforts to recommend a governance body to offer some sort of a "seal of approval" that health information exchanges sharing data nationally are appropriately using Nationwide Health Information Network standards, including those for privacy and security. Among the issues the workgroup is tackling is whether to create a new governance group or leverage an existing organization.
HITECH Act Mandate
In addition to providing hefty financial incentives to hospitals and physicians for the use of electronic health records, the HITECH Act emphasizes the importance of sharing EHRs through exchanges. And these exchanges could be linked coast-to-coast using the NHIN standards. HITECH provided grants to states to support formation of statewide exchanges.

Next year, federal regulators plan to issue a proposed rule for governance of organizations that use the NHIN standards, also referred to as NW-HIN, as required under the HITECH Act. The governance workgroup will make final recommendations, which will be used to help craft that rule, at a Nov. 19 HIT Committee meeting, says John Lumpkin, M.D. workgroup chair. He's senior vice president and director of the healthcare group at the Robert Wood Johnson Foundation.

To help it make those recommendations, the workgroup is seeking suggestions on whether an "existing mechanism" could handle the governance, with or without modifications. The governance body would address such issues as establishing:
Policies for privacy, security and interoperability and to promote adoption of NHIN standards;
Technical requirements to assure policy and technical interoperability;
Appropriate mechanisms to assure compliance, accountability and enforcement;
Oversight of the governance mechanisms.
Meanwhile, the privacy and security tiger team that's advising regulators about health information exchange issues is seeking comments on how to authenticate organizations exchanging electronic health records. Those comments are due Oct. 29