Feds Accuse 94 of Medicare Fraud
Called 'Largest Healthcare Fraud Takedown'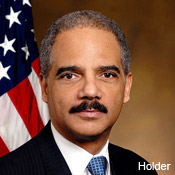 Federal authorities have charged 94 people in what U.S. Attorney General Eric Holder called "the largest federal healthcare fraud takedown in our nation's history."

Those being arrested in Miami, Detroit, Houston, New York and Baton Rouge, La., allegedly participated in schemes to submit more than $251 million in false Medicare claims, Holder announced at a July 16 press conference.

Those charged include physicians, medical assistants, healthcare company owners and executives who "participated in schemes to submit claims to Medicare for treatments that were not medically necessary, and, oftentimes, never provided," Holder said.
The Charges
Charges against those arrested will include conspiracy to defraud the Medicare program, criminal false claims, violations of the anti-kickback statutes and money laundering, according to a Department of Justice release. "The charges are based on a variety of fraud schemes, including physical therapy and occupational therapy schemes, home health care schemes, IV infusion fraud schemes and durable medical equipment schemes," according to the release.

"In addition to making arrests around the country, law enforcement agents are executing search warrants in connection with ongoing healthcare fraud investigations," Holder said. "We will continue to follow the evidence in these cases wherever it leads us."
Massive Effort
More than 360 law enforcement agents from the FBI, the Department of Health and Human Services' Office of the Inspector General and other federal, state and local agencies participated in the crackdown. The Medicare Fraud Strike Force, a joint initiative between the Justice Department and HHS, led the effort.

Since 2007, when the Strike Force was announced, the initiative has led to the indictments of more than 810 organizations and individuals, including those charged July 16, Holder said. Those indicted were allegedly responsible for more than $1.85 billion in Medicare fraud, he said.