FBI: LulzSec Member Nabbed for Sony Attack
Arizona Man Faces a 15-Year-Prison Sentence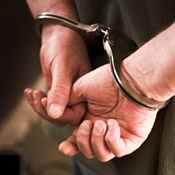 Known as "recursion" among his LulzSec compatriots, Cody Kretsinger is among the hacking group's members responsible for the breach of Sony Pictures Entertainment computers between May 27 and June 2, according to federal authorities.

The FBI Thursday morning arrested Kretsinger, 23, of Phoenix, charging him with conspiracy and the unauthorized impairment of a protected computer. If convicted, he faces up to 15 years in prison.

The late spring breach against Sony that authorities link Kretsinger to is not the major breach that occurred in late April, which targeted the entertainment company's PlayStation Network and Qriocity online service, and exposed personally identifiable information of some 77 million users (see Sony: DDoS Masked Data Exfiltration).

A federal grand jury on Sept. 2 indicted Kretsinger. According to the indictment, which was unsealed Thursday, Kretsinger lived in Tempe, Ariz., at the time of the attack, employing a proxy server to mask his IP address when he launched a SQL injection assault against the Sony computers. Kretsinger and his co-conspirators posted the pilfered information on LulzSec's website, and then announced the attack via its Twitter account, the FBI said. To avoid detection by authorities, Kretsinger permanently erased the hard drive of the computer he used to conduct the attack on Sony Pictures. The FBI said the extent of damage caused by the breach hasn't been determined.

Kretsinger was scheduled to appear before a federal magistrate in Phoenix Thursday. The government said it wants to move the suspect to Los Angeles to face prosecution.