The Evolution of Cyber-Attacks
Tom Kellermann, VP Cyber Security, Trend Micro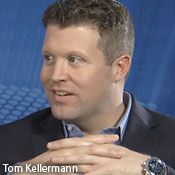 The advanced persistent threat requires an advanced persistent response. This is one of the strategies suggested by Trend Micro's Tom Kellermann in a discussion about the evolution of cyber-attacks.
See Also: OT-CERT: Enabling SMBs to Address Cybersecurity Risks
In this video interview, Kellermann talks about:
New variations of man-in-the-browser, "watering hole" and targeted attacks;
How to tackle the 'shadow economy' created by these attacks;
How to assemble the key ingredients for an advanced persistent response.
Kellermann is responsible for analysis of emerging cybersecurity threats and relevant defensive technologies. He served as a commissioner on The Commission on Cyber Security for the 44th Presidency, is a professor at American University's School of International Service and is a Certified Information Security Manager (CISM). Previously, he was the senior data risk management specialist for the World Bank Treasury Security Team, where he was responsible for internal cyber-intelligence and policy and for advising central banks around the world about their cyber-risk posture and layered security architectures. He co-authored the book "E-safety and Soundness: Securing Finance in a New Age."
Additional Summit Insight:
Hear from more industry influencers, earn CPE credits, and network with leaders of technology at our global events. Learn more at our Fraud & Breach Prevention Events site.