EHR Incentive Deadline Pushed Back
Early Qualifiers Get Extra Time for Stage 2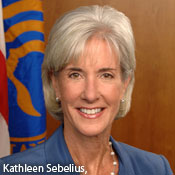 Hospitals and physicians that qualify for Stage 1 of the HITECH Act electronic health record incentive program this year will have extra time to comply with Stage 2 requirements, which are expected to include tougher privacy and security guidelines.

Kathleen Sebelius, secretary of the Department of Health and Human Services, announced Nov. 30 that the deadline for Stage 2 compliance has been extended from 2013 to 2014 for those who attest by February 2012 that they qualified for Stage 1 by adopting EHRs this year. The move is in an effort to make it easier to qualify for maximum payments under the program, she said. This plan also synchs up better with the guidelines for those who start Stage 1 compliance in 2012 and have until 2014 to comply with Stage 2.

The change in the deadline "removes the disincentive for providers to adopt and use health IT right away," said Nancy-Ann DeParle, deputy White House chief of staff, in a blog.
Billions in Incentives
The HITECH Act was designed to provide billions of dollars worth of incentives through Medicare and Medicaid for hospitals and physicians that make meaningful use of EHRs. Payments are received in phases, based on achieving goals for each stage of the program. Those who qualify earliest receive the maximum level of incentives.
See Also: The Guide to Just-In-Time Privileged Access Management
To qualify as a meaningful user of EHRs for Stage 1 incentive payments, organizations must conduct a risk assessment and take action to mitigate any privacy or security issues. Stage 2 is expected to include other, more detailed, privacy and security requirements.
The more stringent requirements for Stage 2 are expected to be announced next summer (see: EHR Incentives Timeline Adjusted).
Physicians and EHRs
Sebelius also announced that a new Centers for Disease Control and Prevention survey found that 52 percent of office-based physicians intend to take advantage of the EHR incentive program.
The percentage of physicians who have adopted basic EHRs in their practice grew to 34 percent in 2011 from 17 percent in 2008, according to the survey.
Earlier, HHS announced that 100,000 primary care providers have signed up to adopt EHRs through regional extension centers, which provide assistance in qualifying for the incentive program (see: EHR Adoption Reaches 100,000).