EHR Certifiers Named for Incentive Program
CCHIT, Drummond Group to Test Software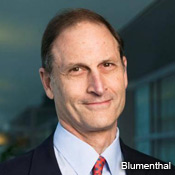 Electronic health records software vendors can begin applying for certification of their applications as qualifying for the Medicare and Medicaid EHR incentive program now that two certifiers have been selected. The recently announced certification standards for Stage 1 of the program include numerous security capabilities, including encryption.

The Department of Health and Human Services' Office of the National Coordinator for Health Information Technology, headed by David Blumenthal, M.D., has designated The Certification Commission for Health Information Technology, Chicago, and the Drummond Group Inc., Austin, Texas, as EHR software certifiers. The office is continuing to review the applications of other potential certifiers.

CCHIT has been certifying EHR software since 2006 in an independent program. The Drummond Group has tested the interoperability of software in many industries, including healthcare, since 1999. But EHRs that have been previously certified or tested by either organization must now be tested again for whether they meet the new federal standards.

Under the HITECH Act, Medicare and Medicaid will provide as much as $27 billion in incentive payments, beginning next year, to hospitals and physicians who make "meaningful use" of qualifying certified EHR software. The meaningful use rule requires those receiving incentive payments in Stage 1 of the program to "conduct or review a security risk analysis and implement security updates as necessary and correct identified security deficiencies as part of its risk management process."

The National Institute of Standards and Technology recently completed a set of procedures that the certifiers will use when testing the applications. The 45 approved test procedures are designed to evaluate all the components of EHRs, including security features, such as encryption and authentication.

In another key step toward launching the incentive program, the Centers for Medicare & Medicaid Services is creating an online system for hospitals and physicians to register for the program and attest that they are meaningful users of EHRs. Registration will begin in January 2011, and the first incentive payments are targeted to be made in May 2011.

The HHS Office of the National Coordinator for Health IT has created a website with more information on the certification program. The Centers for Medicare & Medicaid Services has a website with details on the incentive program.