Consumer Survey on Privacy Slated
HHS to measure attitudes on HIEs, security issues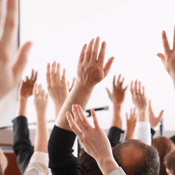 A federal agency will survey U.S. consumers on their attitudes toward electronic health information exchange and related privacy and security issues.

The Office of the National Coordinator for Health Information Technology within the Department of Health and Human Services announced in the Federal Register March 19 that it plans to field the survey in hopes of getting more than 2,500 responses.

In announcing the survey, ONC acknowledges that the creation of health information exchanges, funded in part by a new round of HITECH Act grants, "poses new challenges and opportunities for protecting health information."

In addition to promoting use of electronic health records, the HITECH Act encourages the exchange of the records among hospitals, clinics and others at the local, regional, state and national levels.

ONC also states in the announcement, "Little is known about individuals' attitudes toward electronic health information exchange and the extent to which they are interested in determining by whom and how their health information is exchanged."

The timing of the eight-week survey was not revealed in the notice. ONC plans to use the results to help guide its suggestions for policies and strategies as it champions efforts to build HIEs.

Results will be posted at ONC's Web site.