CMS to Invest in Anti-Fraud Tools
Medicare, Medicaid Turn to Predictive Modeling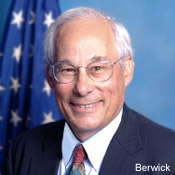 The Centers for Medicare and Medicaid Services plans to acquire predictive modeling applications to help prevent fraud.

CMS announced Thursday that it is soliciting bids for the analytic tools that will help fight fraud in the Children's Health Insurance Program as well as Medicare and Medicaid.
Predicting, Preventing Fraud
The agency is exploring using predictive modeling applications, commonly used by banks, credit card companies and insurers, "to identify background information on potential fraudulent actors and links to questionable affiliations," according to a statement.

"This type of new information will help prevent bad actors from enrolling as healthcare providers or suppliers for the sole purpose of defrauding the healthcare system. Other tools will track billing patterns and other information to identify real-time aberrant trends that are indicative of fraud."

CMS Administrator Donald Berwick, M.D. said the new technology will enable the agency to "expand our efforts to save millions, and possibly billions, of dollars" lost to waste, fraud and abuse.
Using Predictive Modeling Results
The agency will use the results of predictive modeling to take anti-fraud action before a claim is paid, the statement said. In a test of the technology, CMS already is taking administrative action to stop payments to "false fronts" in Texas identified through predictive modeling.

In addition, the agency is implementing its expanded authority under healthcare reform to suspend payments when investigating a credible allegation of fraud.

The technology will support the agency's new National Fraud Prevention Program and complement the work of the Healthcare Fraud Prevention and Enforcement Team, a joint effort of the Department of Health and Human Services and the Department of Justice.