Call for Stronger Mobile Privacy Law
Apple, Facebook, Google Defend Privacy Practices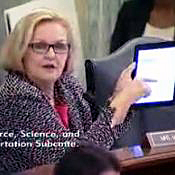 With representatives of Apple, Facebook and Google in earshot, several senators Thursday called for stronger privacy protection for smartphones and other mobile devices.

The Senate Commerce, Science and Transportation Subcommittee on Consumer Protection, Product Safety and Insurance called the hearing after reports last month that Apple and Google maintained hidden files on their mobile devices that tracked locations visited by users (see Apple, Google Under Fire at Hearing). Apple and Google reiterate earlier statements that they don't track the locations of individual users.

Instead, some senators focused on apps downloaded from Apple's App Store and the Android Marketplace that collect individuals' location information even though the applications don't require geographic information to function.

Association for Competitive Technology Executive Director Morgan Reed, whose group represents app developers, conceded the app developers his group represents could do a better job policing themselves yet cautioned lawmakers from developing regulations that could curtail innovation.

Sen. John Kerry, D-Mass, didn't accept Reed's contention. "I reject the notion that privacy is the enemy of innovation; it is not," said Kerry, cosponsor of a bill aimed at protecting online privacy. "In fact, a more trusted information economy will encourage greater consumer participation and in turn, more and better services delivered in a safer commercial environment more respectful of users."

Still, Sen. Claire McCaskill, D-Mo., warned her colleagues about going too far with regulations, noting the unintended consequences of the Health Insurance Portability and Accountability Act, which is aimed at protecting patients. She wondered how much protection HIPAA affords when patients sign long disclosure protection statements without either reading or understanding them. "We want to be careful as we move forward on privacy because so much of the success we had in this space in this country, in the Internet, in the advance of technology has been remarkable, and I want to make sure we don't have unintended consequences," she said.

At one point, McCaskill held up her iPad tablet computer to demonstrate that as a consumer she can turn off the location services feature of an app. "All I have to do is switch that switch," she said. McCaskill said she understood why location services are provided in apps that don't require them - advertiser want that information - but expressed confusion why vendors don't alert users to the location feature to ward off government regulations.

Witnesses for Apple, Facebook and Google defended their privacy practices.

Apple Vice President Catherine Novelli said app developers confronted with questionable privacy features on their wares have 24 hours to fix them or they no longer can sell them at the App Store, which gives developers incentive to correct the problem.

Facebook Chief Technology Officer Bret Taylor said consumers get to choose if they want to use automated services that identify their whereabouts.

Google's Alan Davidson said users of its Android software are asked about use of location features when they first turn on their smartphones.

The call to regulate mobile technology likely won't disappear. "I think anyone who uses a mobile device has an expectation of privacy, and sadly that expectation is not always being met," Senate Commerce Committee Chairman Jay Rockefeller, D-W.Va., said in his opening remarks.

Rockefeller drew some chuckles when he revealed some unusual facts about mobile phone use: "There are 234 million mobile devices in use today. Seventy five percent of teenagers own a cell phone. And 72 percent of parents say they have slept with their cell phones."