Blumenthal Highlights Privacy Issues
Calls 'Conditions of Trust' Essential to HIE Success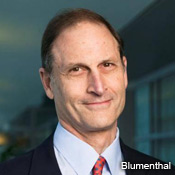 As he prepares to step down as leader of the Office of the National Coordinator for Health Information Technology, David Blumenthal is calling for stepped-up efforts to protect the privacy of patient information, especially as more electronic health records are created and exchanged.

"ONC will be concentrating on creating conditions of trust and interoperability that are essential for health information exchange," Blumenthal said Wednesday in his keynote speech at the Healthcare Information and Management Systems Society Conference in Orlando. A key priority, he said, is "to assure the public that privacy and security is ever-present on our minds and can be provided in the context of health information exchange."

Blumenthal had a message for his successor and the team at ONC: "My hope is that the department will take on comprehensively the privacy and security needs to ensure system interoperability over the next several months."

He pointed to the ongoing work of the Privacy and Security Tiger Team, which is developing recommendations that will be incorporated in policies, programs and regulations.

Earlier in the week at the HIMSS Conference, Deven McGraw, co-chair of the tiger team, outlined the team's upcoming projects, including developing recommendations for authenticating the identity of physicians accessing information across a network, as well as authenticating patients who want to access records via a portal (See: Tiger Team's Deven McGraw on Next Steps).
HITECH EHR Incentive Statistics
Blumenthal's office oversees the HITECH Act's electronic health record incentive program, which will provide as much as $27 billion in Medicare and Medicaid incentives to hospitals and physicians.

So far, 21,300 providers have registered for the incentive program, Blumenthal said. Medicaid programs in four states have paid more than $20 million in incentives to 25 organizations; Medicare is slated to start making payments May 1.

In another HIMSS keynote presentation, Kathleen Sebelius, secretary of the Department of Health and Human Services, noted that 231 companies have had electronic health records software certified for the incentive program, and two-thirds of those companies have fewer than 50 employees. "Any one of them may be the next Google or Microsoft," she said.

As a result of the HITECH Act's EHR incentives, funding for health information exchanges and other programs, Sebelius said, "We can make more progress in health IT in the next five years than we have in the last 50."