RSA Conference 2017: Reporter's Visual Notebook
The Greatest Cybersecurity Ever - Hype, Hope and Humor in San Francisco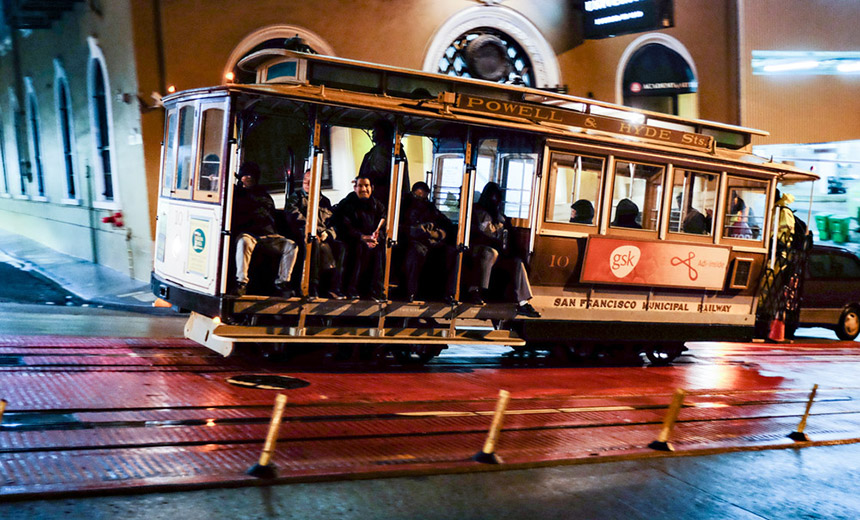 Every year, information security professionals flock to San Francisco for the annual RSA Conference.
See Also: Live Webinar | Cyber Resilience: Recovering from a Ransomware Attack
Here are some visual highlights:
Record-Setting Attendance Numbers
Moscone North -- 2017 @RSAConference #RSAC pic.twitter.com/1g4gviBQxl

— Mathew J Schwartz (@euroinfosec) February 22, 2017
Photos and videos by Mathew Schwartz.
Organizers say the information security conference, now in its 26th year, drew a record-setting 43,000 attendees to its keynotes, peer-to-peer sessions, track sessions, tutorials and seminars (see 11 Takeaways From RSA Conference 2017).
Hacking's Greatest Hits
@BlackViolin keynotes 2017 @RSAConference #RSAC pic.twitter.com/g679lthSrd

— Mathew J Schwartz (@euroinfosec) February 22, 2017
RSA launched in a visual and sonic riot - DJ, drummer, and finally the hip-hop duo Black Violin, who played before a montage of cybersecurity news headlines.
John Lithgow Salutes You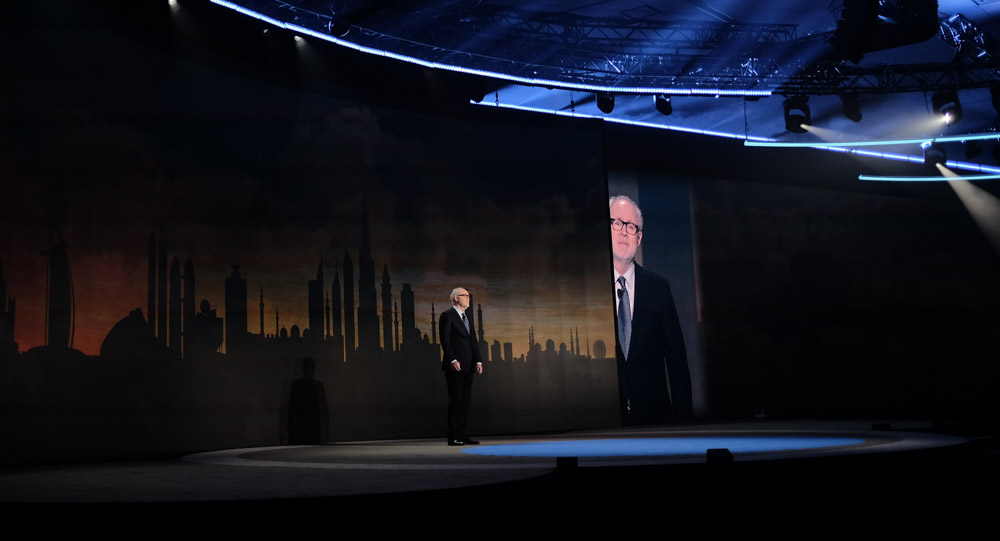 Who keeps the lights on? You do!
Surprise guest John Lithgow, aka self-described "serial killer, alien high commander, transgender football player, children's book writer" and current Winston Churchill in "The Crown," saluted attendees' cybersecurity contributions in an opening monologue.
500+ Sessions

The conference included more than 500 sessions featuring more than 700 speakers. Keynotes were held in the Moscone West building, which also - with Moscone North and Moscone South - was the site of numerous presentations.
Marriott Marquis

The nearby Marriott Marquis, which includes a subterranean - and what feels to be subway-level - massive conference space was also the site of numerous presentations.
15 Keynotes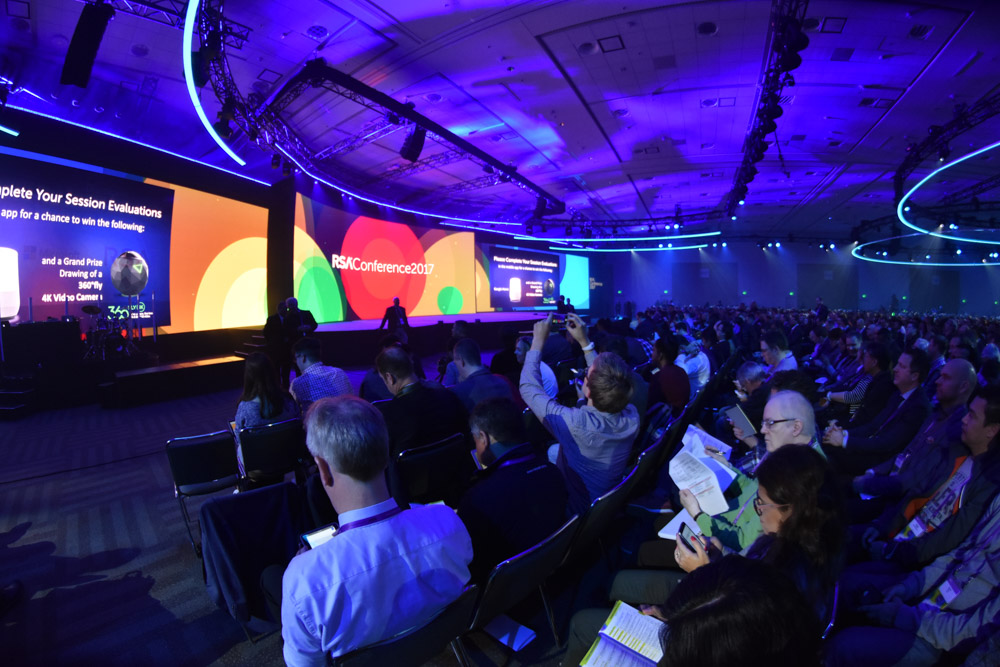 The audience for the opening keynotes.
RSA Conference 2017 included 15 keynote presentations, held in Moscone West.
Keynotes ranged from Eric Schmidt, executive chairman of Alphabet, discussing artificial intelligence, and RSA's CTO, Zulfikar Ramzan, talking incident response, to Rep. Michael McCaul, R-Texas, discussing how the new administration must work with Congress to combat emerging cybersecurity threats, and a panel of top cryptographers discussing everything from post-quantum cryptography to combatting vote fraud.
The Greatest Crypto Ever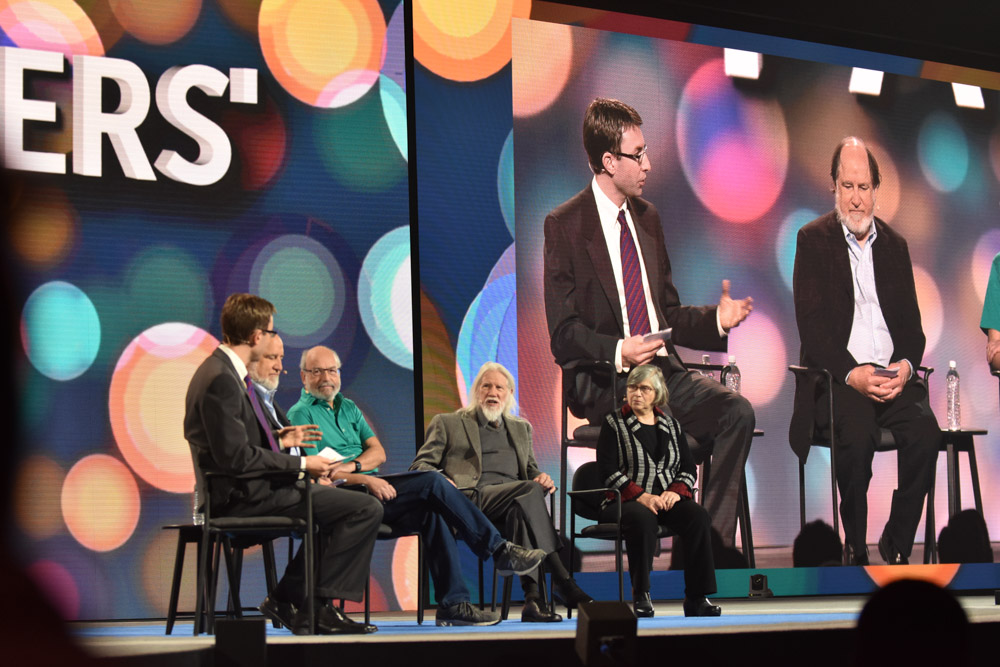 Paul Kocher - striped tie - talks "Trumpcryption."
The potential impact of Donald Trump's still-new presidency dominated many RSA discussions, sometimes in humorous ways. The Cryptographers' Panel moderator Paul Kocher, president and chief scientist of the cryptography research division of manufacturer Rambus, detailed a new proposal for what he calls "Trumpcryption."
"It's a scheme that keeps your information secure but it has a backdoor that outputs alternative facts," Kocher explained. "It's a zero knowledge scheme."
Saluting Immigrants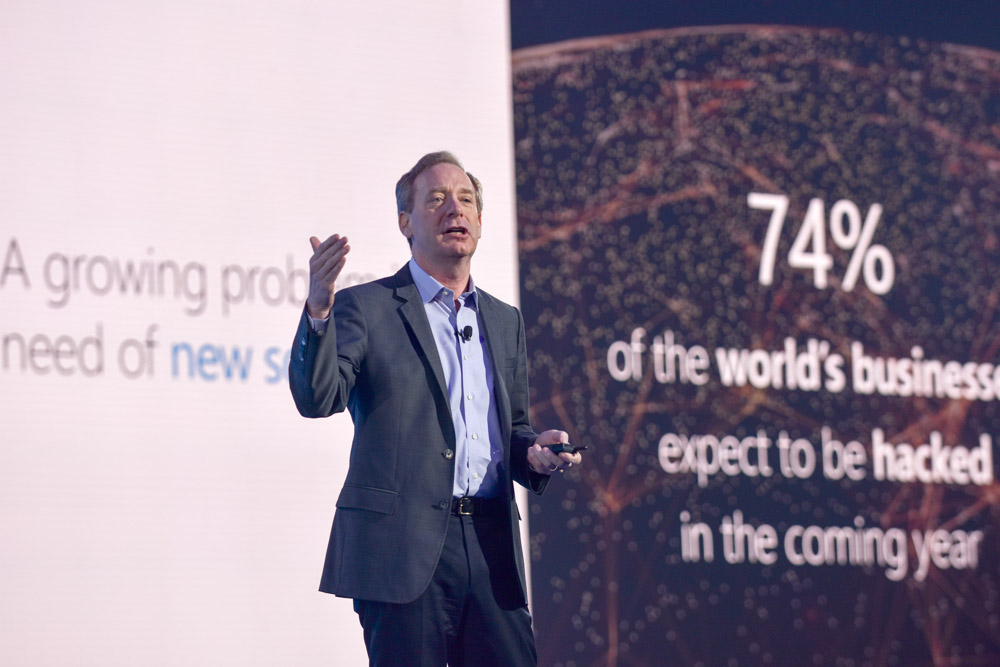 Brad Smith, president and CEO of Microsoft.
Numerous RSA speakers, responding to Trump's executive order on immigration, saluted immigrants' contributions to the IT and information security space. Microsoft CEO and president Brad Smith, for example, gave a shout-out to the many and varied backgrounds of Microsoft's employees, saying they hail from 157 countries and make him feel like he works at "the United Nations of information technology."
Bet on Chaos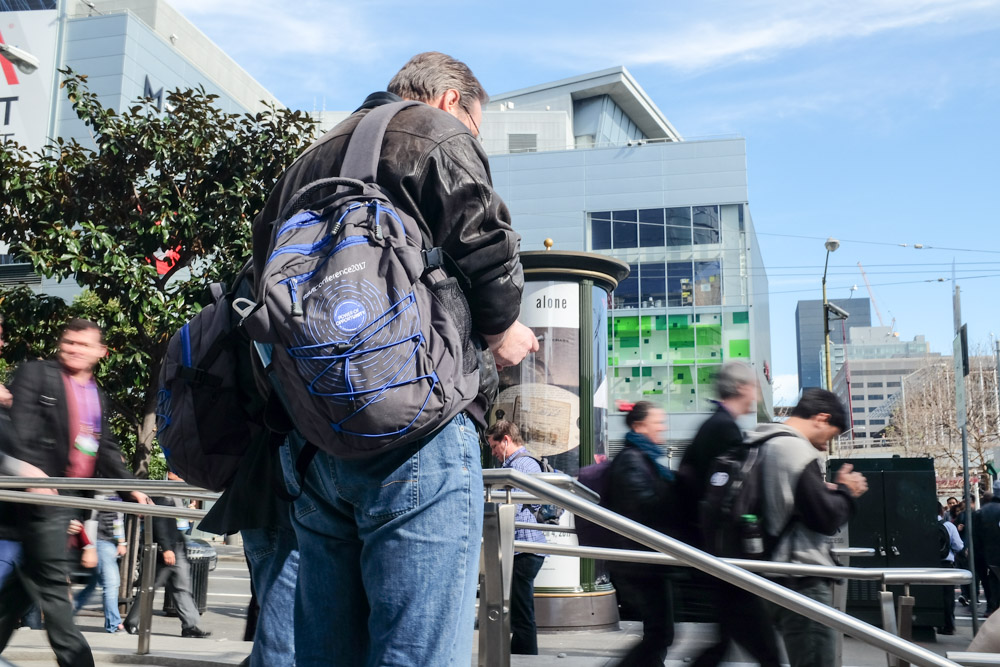 The political sphere aside, organizations and individuals are facing increasing amounts of information security-related chaos (see Cybersecurity Chaos Dominates RSA Conference Discussions).
Some of the dominant themes that I kept hearing at this year's RSA centered on:
Internet of things devices plagued by poor security and targeted by malware such as Mirai;
Ransomware, which increasingly targets not just endpoints but also servers and backups;
Data breaches, which continue disrupt IT operations and data security;
The continuing challenge of verifying the integrity of data.
Moscone Diaspora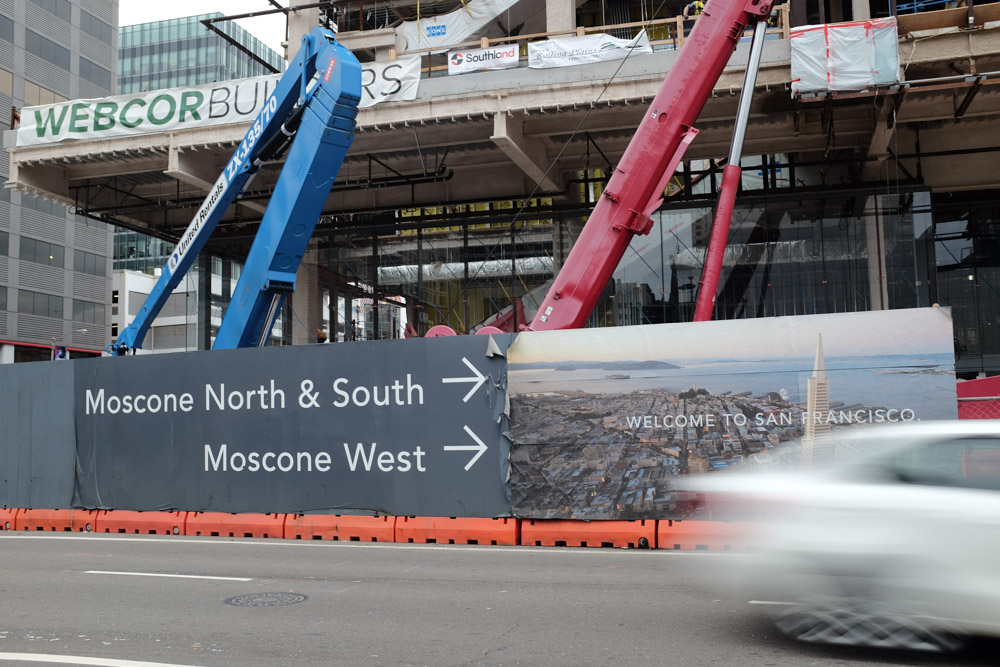 Moscone Center: Still under construction.
Also on the chaos front, vast parts of the Moscone Center - owned by the city and county of San Francisco - remain under construction, as was the case with the RSA 2016 conference. For members of the media, that has meant decamping to the W Hotel for meetings.
ISMG Video Interviews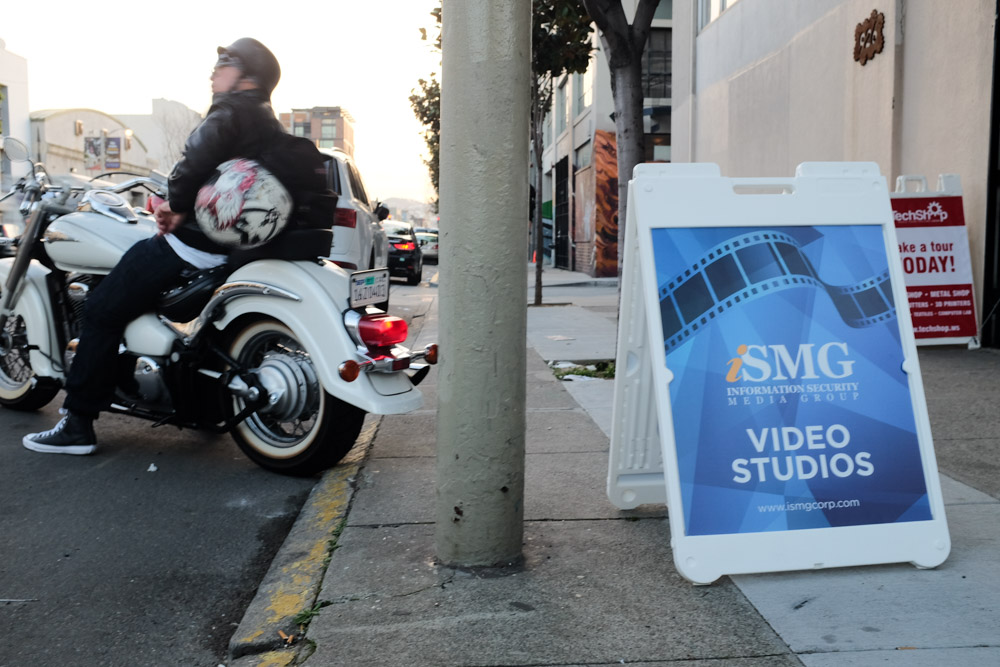 This year, however, Information Security Media Group also created a temporary studio in a nearby membership-based, do-it-yourself workshop called TechShop.
Experts on Camera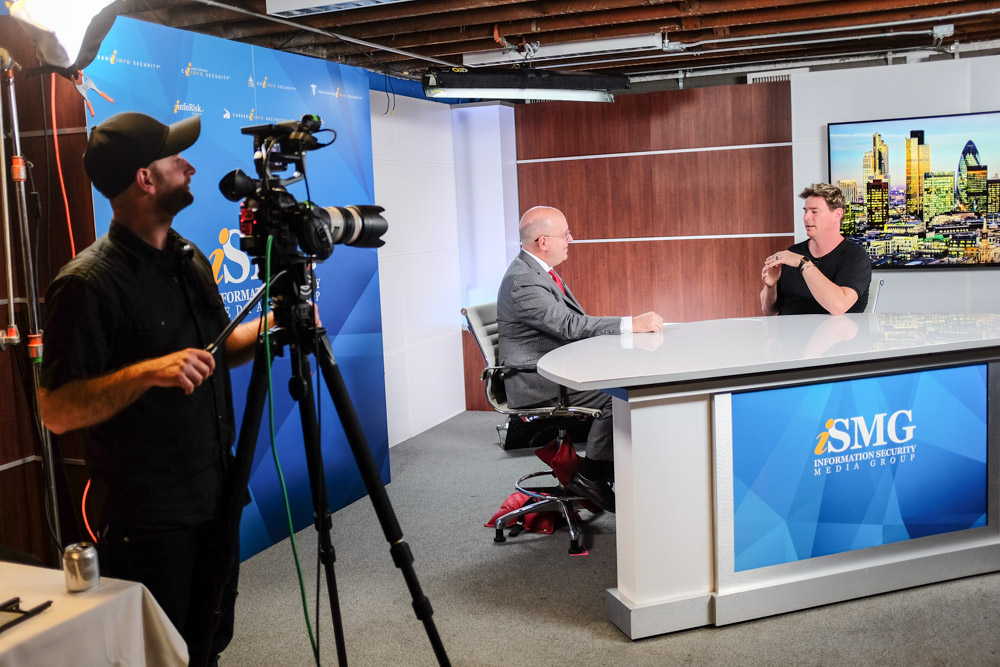 ISMG's Tom Field, left, talks cybersecurity with internet pioneer Barrett Lyon, head of R&D for Neustar.
At our video studio, ISMG conducted dozens of interviews with everyone from FBI cybercrime investigator M.K. Palmore and Cisco chief privacy officer Michelle Dennedy to secure development expert Chris Wysopal and Gartner's Avivah Litan.
Hype and Hope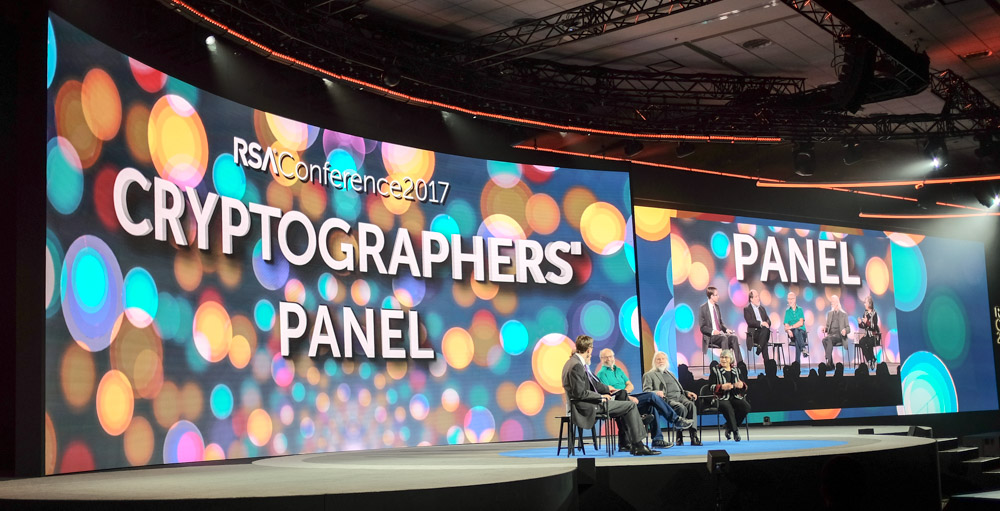 The RSA 2017 Cryptographers' Panel.
RSA wouldn't be complete without an inordinate amount of presentations - as well as vendors - focusing on some technology purported to be the latest silver bullet. My nominations for this year's most overhyped RSA technology include:
Artificial intelligence
Machine learning
User behavior and user behavioral analytics
Some old hands at the conference didn't hold fire on the supposed upsides of some of the silver-bullet technologies being discussed.
"I'm skeptical that AI will have much of an impact on security," said Israeli cryptographer Adi Shamir - the "S" in the RSA public-key cryptographic algorithm, during the Cryptographers' Panel keynote discussion. "If you talk about 15 years from now, when AI systems are going to be super intelligent, I can foresee when you give all of the information about cybersecurity to the AI and it will think about it and then say, in a very calm voice, 'In order to save the internet, I'll have to kill it.'"
Already, some chat bots - thanks to AI techniques - are becoming difficult to distinguish from real people. That led co-panelist Whitfield Diffie, a pioneer in public-key cryptography, to predict that AI bots would become incredibly useful, albeit for "automated social engineering."
Multiple Expo Floors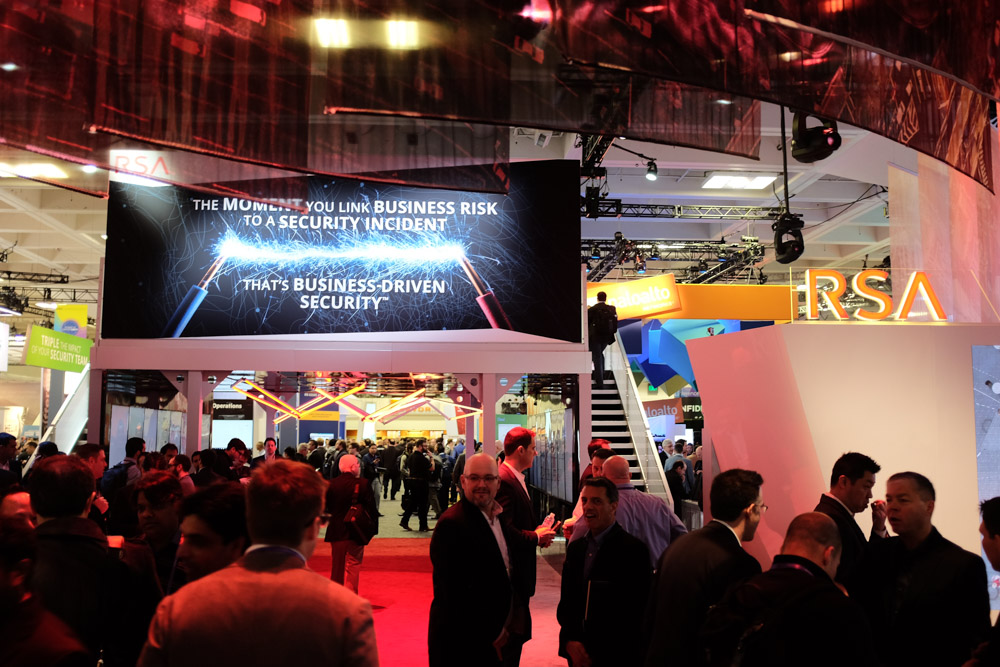 The RSA expo floors featured more than 550 companies spread across two underground halls - known as Moscone North and Moscone South - beneath the city's Yerba Buena Gardens, as well as the three-level Moscone West exhibition hall on nearby 4th Street. The nearby Marriott Marquis, meanwhile, included the Early Stage Expo, highlighting emerging startups.
Going down, down, down to the Expo floor at @RSAConference 2017 in San Francisco #cybersecurity #RSAC pic.twitter.com/jaXM5FOWrf

— Mathew J Schwartz (@euroinfosec) February 22, 2017
Going down, down, down to the Moscone North Expo hall.
Identity platform maker UnifyID bagged the award for "RSA Conference 2017's Most Innovative Startup."
Let's Get Physical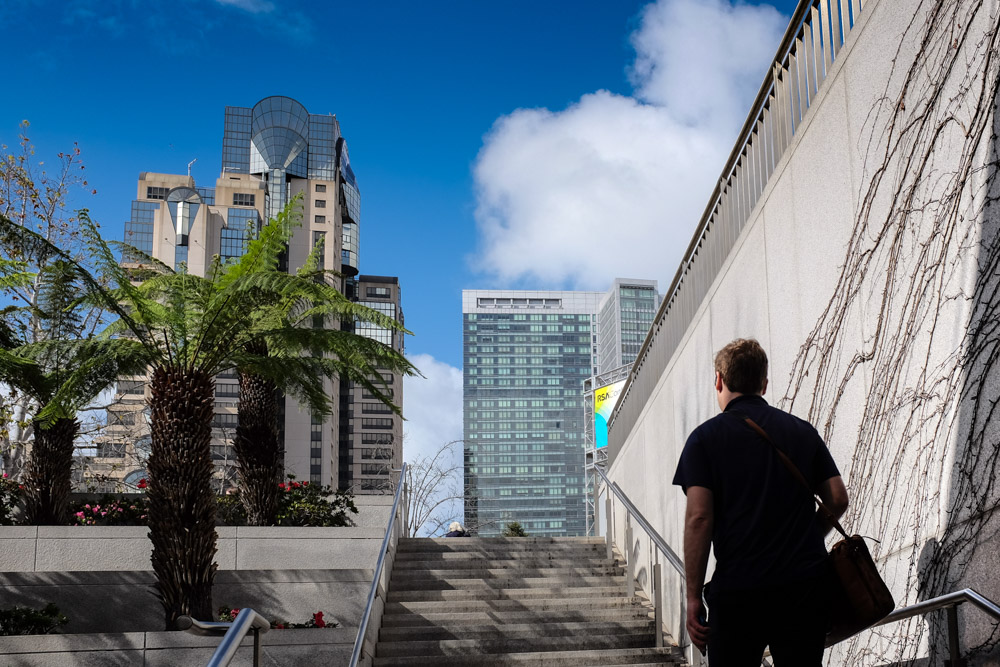 Approaching Yerba Buena Gardens.
With sessions spread across so many locations, cue walking - lots of walking. Which is perhaps not a bad turn of events, given all of the vendor-sponsored lunch trucks dispensing free food.
Public Transport
This being San Francisco, of course, alternative methods of transportation were also available.
Additional Summit Insight:
Hear from more industry influencers, earn CPE credits, and network with leaders of technology at our global events. Learn more at our Fraud & Breach Prevention Events site.